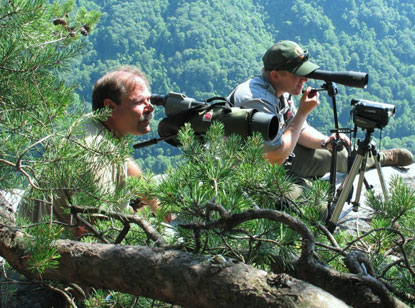 News Release Date:
July 1, 2007
Contact: Matt Varner, 304 465-6542
A year ago, the National Park Service (NPS) at New River Gorge National River began hosting a long-term restoration project for the peregrine falcon and 15 birds were successfully raised from nestlings and released. "This year, a total of 24 falcons have been released, which is the largest number ever recorded for a restoration site – anywhere in North America," exclaimed Matt Varner, NPS Wildlife Biologist.
It's a collaborative effort led by the NPS and the West Virginia Division of Natural Resources (DNR). Craig Stihler, DNR Wildlife Diversity Biologist, shares Varner's excitement: "There is a 37-year history associated with the national peregrine falcon recovery program, so for our project to be the all-time leader for falcons released in one year is really something to be proud of," said Stihler.
Both Stihler and Varner attribute the project's success to assistance from many partners. The NPS and DNR have been supported by the Three Rivers Avian Center, volunteers from the New River Alliance of Climbers, local landowners, the College of William and Mary (in Virginia) and local birding enthusiasts. "These groups have helped us identify suitable nesting habitat, transport nestlings from Virginia and Maryland, feed the birds twice a day, and keep the site under observation after the birds are released to determine the program's success," Stihler explained.
Success is defined by observing a bird at least 14 days after its release, indicating it has survived the period when it is most vulnerable to predation by owls and hawks. "Last year we had a fantastic 94% success rate, but this year we have achieved a phenomenal 100% rate! Each bird has different colored leg bands and this past weekend we positively identified all 24 falcons," said Varner.
The goal of the project is the establishment of cliff- nesting peregrine falcons within the park and/or surrounding tri-state area. So far, one female from the 2006 release has returned to the Gorge; although it will be at least another year before last year's falcons are of breeding age, the NPS and DNR consider that any returning birds bode well for the future.
Live, real-time video of the young falcons may be seen at the NPS Canyon Rim Visitor Center (9am-5pm), just off US Rt. 19 near Fayetteville, WV. Photos and webcam images are also available on the internet at https://www.nps.gov/neri/photosmultimedia/neri_peregrine.htm. For more information, Varner may be reached at 304-465-6542.