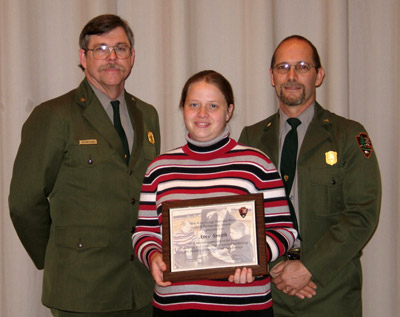 News Release Date:
January 5, 2007
"Every year, New River Gorge National River presents a Park Partnership Award to an individual who has demonstrated exceptional dedication and commitment toward furthering the National Park Service (NPS) mission," announced Park Superintendent, Cal Hite. "The 2006 recipient is Summers County Middle School teacher, Amy Smith, who has been an exemplary participant in the NPS environmental education program for several years."
In a letter accompanying the award, Hite cited Smith's enthusiasm and support of the Water Resources Education Curriculum which "has made Summers County Middle School an example for other schools to emulate." A science teacher, Ms. Smith secured a mini-grant to purchase water testing equipment, and additional bus transportation funding so her students could make monthly field trips to sample water in the New River and Madam's Creek. Back in the classroom, the students analyzed the samples, graphed the data and discussed the results, gaining exposure to field work and scientific research methods.
"The National Park Service is extremely proud of our partnership and very grateful to you for raising students' awareness of water quality issues in New River Gorge National River. The New River is an American Heritage River and it is the central feature of this national park: Its health is vitally important to our quality of life today and for future generations."
The 2001 recipient of this award was Gene Kistler, followed by Bruce Burgin in 2002, Margaret and Robert Sayre in 2003, Sam Plumley in 2004, and Randy Boyd in 2005.