John Nuttall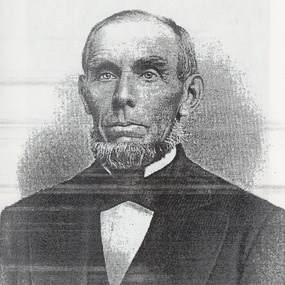 "It was the belief of [my grandfather] that the safest and most profitable investment that a man could make was the purchase of wild lands which had natural resources on or under them. Such lands should increase in value . . . [and] no trusted employee could embezzle them." - John Nuttall II
Early Life
Born in England in 1817, John Nuttall started working in the mines at age eleven to help support his family. While he enjoyed mining work, at age 17 he vowed that he would save money to emigrate to America. Two decades later, Nuttall finally set sail for America in 1849 to seek new opportunities. His wife's siblings, the Crabtrees, owned a silk mill in New York where John worked. After one year, he saved enough money to bring his wife and children to America.


He continued to work in the silk industry, but always watched for the chance to open a mine and return to the job he loved. Seven years after he came to America, Nuttall had the chance to open a mine at last. With help from his two brother-in-laws, John Nuttall purchased land in western Pennsylvania. Using his mining knowledge, Nuttall created and managed several successful mines.

Venture into West Virginia

In 1870, John Nuttall learned about the construction of the Chesapeake & Ohio Railroad near the rich coal fields of West Virginia. Sensing opportunity, Nuttall rushed to the area leaving his Pennsylvania mines in the care of his son-in-laws. In the New River Gorge, Nuttall purchased as much land as he could after seeing the high grade of New River coal. He was 53 years old when he began his newest venture in West Virginia. His first mine opened even before the the completion of the C & O Railroad in 1873. When the tracks opened, his town was already ready to ship coal. The town built around the mines was named Nuttallburg after its founder.

The Nuttall Family

Over the course of his life, John Nuttall married three times. He had four children, a son and three daughters, with his first wife Elizabeth. While they were living in New York, Elizabeth tragically died from an unknown disease. John later married his distant cousin's widow, Ann. Their relationship was a poor fit and a few years later the two parted ways amicably. His final marriage was to Martha, the daughter of a business associate from West Virginia.

Nuttall's daughters all married and their husbands ran the family mines. Lawrence's true passion was plants, not mining. He became a highly regarded botanist discovering new species in New River Gorge including Fraser's sedge.

"[My father] went out every evening to gather plants and spent all of his spare moments in identifying his finds, among which were a couple of [species] that he could not identify...they were a new discovery..." - John Nuttall II
Nuttall Legacy

The Nuttall family prospered in West Virginia. They operated several profitable coal mines and owned thousands of acres of land. Nuttallburg became a home to hundreds of families providing jobs and livelihood. John Nuttall continued to mange his mines until his death in 1897. His fortunes and property were left to his four children to share alike.
More New River Gorge History
Explore the historic mining town of Nuttallburg

Learn about the first coal operator at New River Gorge

Learn about the "Miner's Angel" and her fight for unionization.
Last updated: August 24, 2023