Mother Jones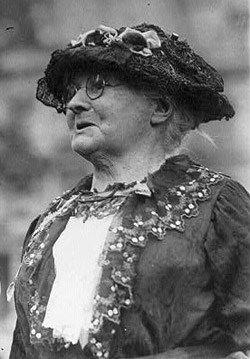 "In spite of oppressors, in spite of false leaders, in spite of labor's own lack of understanding of its needs, the cause of the working class continues onward. Slowly his standard of living rises to include some of the good and beautiful things of the world. ... Slowly those who create the wealth of the world are permitted to share it. The future is in labor's strong hands." - Mother Jones

If any one person has helped to improve this nation's civil rights and standard of living, it is Mary Harris Jones. Better known as "Mother Jones", she became a leader and symbol for unionization.


Early Life
Mary Harris was born in 1830 in Cork, Ireland. While she was still a child, the Great Famine struck Ireland. Like many Irish families, the Harris' immigrated to America to find food and a new life. Although she received only a basic education, Mary began teaching in Michigan at age 23. She would spend most of her life as a teacher and dressmaker. In 1861, she married George E. Jones and they had four children together.


Mary's life began to change in 1867. While living in Memphis, the yellow fever epidemic took her husband and four children. After losing her family, Mary helped nurse plague sufferers until the epidemic ended. Soon after, she went back to dressmaking and moved to Chicago.


Once again "bad luck" darkened her door. The Great Chicago fire of 1871 claimed her establishment and everything she owned. Mary found herself again without a home. This is when she found the union as her home and the workers as her family. Mary Jones became a member of the Knights of Labor. Formed after the Civil War, the Knights of Labor worked to fight industrial slavery.


Fight for Rights
Mary Jones' father and husband were both hard working laborers. This likely influenced her decision to take an active part in the efforts of the working class. The Industrial Revolution of the 1880s brought many hardships to the working class. Workers suffered under poor working conditions, overcrowded cities, 17-hour workdays, and more. Yet with this exploitation also came the birth of one of America's greatest leaders -- Mother Jones.


Mother Jones travelled across the country to fight for the freedom of the working class. She wore outdated black dresses and called the male workers "her boys". Her journeys took her from mines in Colorado to mills in Georgia.


"There is no peace in West Virginia because there is no justice in West Virginia." - Mother Jones

In West Virginia, she was the first walking delegate for the United Mine Workers of America. On foot she would travel from coal camp to coal camp inciting miners to risk their lives to form a union.


A strong and willful woman, Mother Jones spent her golden years as the most active time in her life. From the age of 50 to 99 years this "pistol packin' mamma" led union strikes in West Virginia. She suffered personal attacks, threats, and many hardship for her role in the strikes. She even spent time in jail in 1902 at age 71 and again in 1913 at age 82. Nothing would break her fiery spirit or stop her mission for unionization.


Legacy
Mary Harris "Mother" Jones continued the fight for workers' rights until her death in 1930. She died at 99 years of age having seen much labor reform and the birth of unionization. Mother Jones was buried in the United Mine Workers Cemetery in Mount Olive, Illinois. Over 30,000 people attended her funeral.


Many organizations have chosen to honor Mother Jones and continue to recognize the value of her work. She was inducted into the National Women's Hall of Fame in 1984. In 1992, the Department of Labor also inducted her into the Labor Hall of Fame. Most recently, in 2019, Mother Jones became the 248th inductee to the National Mining Hall of Fame.


"For countless workers she was both goad and inspiration... Her flaming rhetoric and fearless campaigning helped swell the ranks of the United Mine Workers who called her the Miner's Angel." - Plaque at the Labor Hall of Fame
More New River Gorge History
Explore the historic mining town of Nuttallburg

Learn about the first coal operator at New River Gorge

Discover the dramatic story of survival in New River Gorge


Last updated: August 24, 2023