Visit Heart of the Monster
According to the nimíipuu (Nez Perce) creation story, Iceye'ye (Coyote) killed a large monster along the Clearwater River near present day Kamiah, Idaho, thus creating different tribes in the region, including the nimíipuu. A rock formation in the area is said to represent the heart of the monster described in the legend. It is sacred to the nimíipuu people.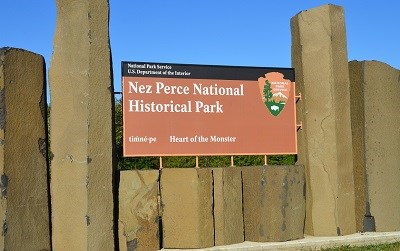 Getting to Heart of the Monster
The Heart of the Monster is a 53 acre site located off of U.S. 12 East approximately 60 miles east of the park visitor center in Lapwai, Idaho, and about 2 miles upstream from the bridge that crosses the Clearwater River in east Kamiah, Idaho.
Location:
Driving to Heart of the Monster
From Kamiah, Idaho, turn right onto U.S. 12 E/3rd St following signs for Kooskia/Missoula. Continue to follow U.S. 12 E for 2 miles. The Heart of the Monster will be on the right.
Operating Hours and Seasons
Heart of the Monster is open from sunrise to sunset daily year-round.
Things to Do at Heart of the Monster
Explore the Site
This site has an interpretive shelter with two exhibits and an audio program. These give you the background information on the role of legends in Nez Perce culture and tell part of the "Coyote and the Monster" legend in nimipuutímt (Nez Perce) and in English. A short trail (approx. 0.2 miles) leads to the "Heart of the Monster" feature and a small semi circle of seating. Here another audio recording tells the "Coyote and the Monster" legend. Other amenities at this site include RV parking, restrooms, a water fountain, and picnic tables. Either return to your vehicle along the paved trail, or take the unpaved scenic trail to the north and west to make your hike a loop, for a total length of 0.5 miles.
Nearby Amenities
Fees, Permits, and Reservations
Recreational Activities
The general public does not need to pay entrance fees, make reservations, or obtain permits from the National Park Service for any recreational activities at Heart of the Monster including hiking or picnicking.
First Amendment Activities
As in all units of the National Park Service, First Amendment Activities are welcome here.
First Amendment activities must not interfere with other permitted activities or regular park programing. Groups of less than 25 people are exempt from filing a permit request. Groups of 25 or more must contact the park to obtain a permit:
Phone: (208) 843-7001
e-mail us
Respecting Sacred Ground
As visitors to a spiritual place for the Nez Perce, we ask you treat Heart of the Monster with the same respect and honor you would show to any other sacred or religious site.
Last updated: August 31, 2023