Visit Asa Smith Mission
The Asa Smith Mission was established near present day Kamiah, Idaho in 1838 by Asa Smith and his wife, Sarah. Asa Smith took the first steps in saving the Nez Perce language by writing the first Nez Perce dictionary and grammar book.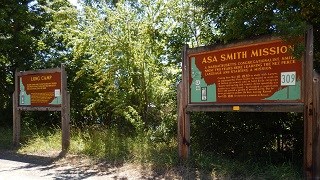 Getting to Asa Smith Mission
A historical marker with information about Asa Smith Mission is located on U.S. Highway 12, approximately one mile east of Kamiah, Idaho.
Location
Located on U.S. Highway 12 at mile marker 67.6

Latitude/Longitude for Highway Pullout:
46°13'20.76"N 116°0'33.79"W
Driving to Asa Smith Mission
From Kamiah, Idaho, turn right onto U.S. Highway 12 E/3rd St (signs for Kooskia/Missoula). Continue to follow U.S. Highway 12 E for 1.3 miles. The highway pullout will be on the right.
Things to Do at Asa Smith Mission
Exploring the Site
The Asa Smith Mission is an affiliated site of the Nez Perce National Historical Park that is located on private property, and is not accessible to the public. However, there is a pullout off of U.S. Highway 12 about two miles upstream of the actual mission site that has interpretive signs explaining the mission.
Nearby Amenities
Learn More
Asa and Sarah Smith's time among the Nez Perce was short, but eventful. Read more about them on our
Asa Smith history page
.
Last updated: July 13, 2022