Nez Perce Stories and the Power of Place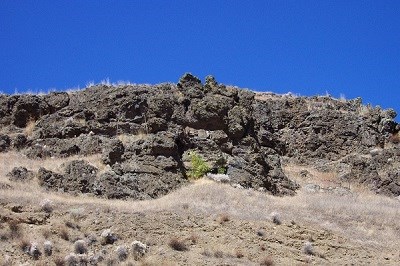 At the heart of every culture are the stories and places that sustain them as a people. For the Nez Perce, these stories taught children about the landforms that surround them everyday and help them learn their language, history and culture. The Nez Perce homeland is filled with unique and special places that since the beginning of time have defined who they are. As you drive through the unique topography of Nez Perce country, keep in mind that many of the prominent landmarks you see more than likely have a story attached to them. Nez Perce National Historical Park interprets three of these story sites: Ant and Yellowjacket, Coyote's Fishnet and the Heart of the Monster. Each of these sites involves Coyote and other spiritual entities. Coyote was a teacher, trickster, or hero depending on the particular story.
Ant and Yellowjacket and Coyote's Fishnet are on Hwy 95, very close to the park's visitor center in Lapwai, Idaho. Heart of the Monster is located approximately 55 miles east of the visitor center on Hwy 12 just outside of the town of Kamiah.
Explore a map of the Nez Perce Legend Sites
Explore all the Story Sites that make up Nez Perce National Historical Park on the interactive map below. To learn more information about the site, click 'Learn more' at the bottom of the description. Zoom in to see a site or area more clearly.
Last updated: December 30, 2022