Asa Smith
Not all of the Protestant missionaries who came west were well suited for working with Indians. Far from home and temperamental, Asa and Sarah Smith failed as missionaries, but left an important legacy. Asa Smith wrote the first Nez Perce dictionary and grammar, unwittingly taking the first steps in saving the Nez Perce language.
The Smiths originally had set their sights on going to Asia to work in Siam (present day Thailand) but financial difficulties and the need for missionaries in the west changed their plans. After an arduous trip west with a group of other missionaries they arrived at Marcus and Narcissa's mission, Waiilatpu, in late August 1838. At first it was thought to give Waiilatpu to the Smiths to run while the Whitmans relocated to a more central location. Narcissa dissented and after further consultations with Marcus and a Nez Perce headman, known as Lawyer, argued that a station should be opened in Kamiah. The Smith's moved to Kamiah in the spring of 1839 to establish a mission.
After establishing a mission in Kamiah, Smith plunged into his work, taking a census of the Nez Perce and studying the language. Henry Spalding, the missionary at nearby Lapwai, and Smith had a vicious disagreement concerning how to Christianize the Indians. Whitman and Spalding thought the best strategy was to make the Indians farmers. Smith disagreed, thinking that this would make the Nez Perce too "worldly minded". Moreover, Smith clearly saw that Spalding was exaggerating the number of Indians he was contacting. The last straw was two Nez Perce subchiefs Insimmalakin and his brother Inmtamlaiakin ordered the Smiths to leave Kamiah in retaliation for an event that had taken place at Fort Walla Walla when some Nez Perce were implicated in a beating of a trader.
The Smiths left Nez Perce country in 1842 and took up a position in the Hawaiian Islands until 1846 when the family returned to the United States.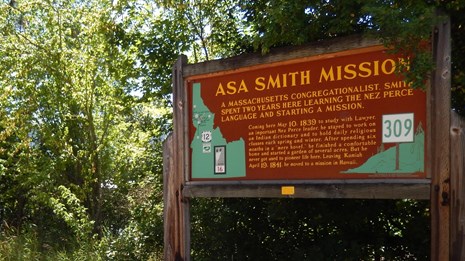 Visit the Asa Smith Mission
Plan your visit to the site near Kamiah, Idaho where Asa and Sarah Smith set up their Mission in 1839.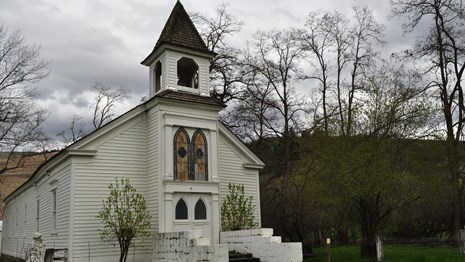 The Mission Era
During the mid nineteenth century, Protestant and Roman Catholic missionaries spent time among the Nez Perce.
Last updated: February 24, 2018