The Treaty Period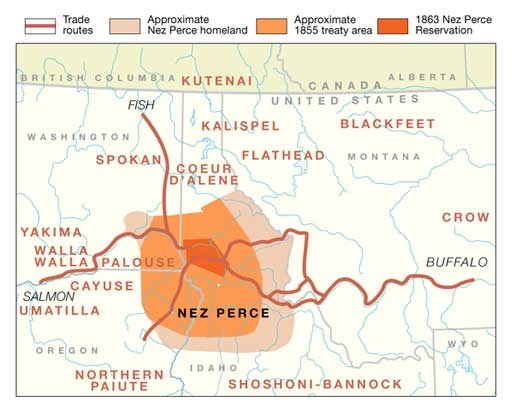 The treaty era for the nimíipuu (Nez Perce) began in 1846 when Great Britain and the United States settled a long running disagreement over settlement and control of what was then known as Oregon country. With the settlement of this dispute, settlers going overland on the Oregon Trail began to pour into the region. The creation of the Oregon Territory in 1848 and Washington in 1853 triggered the treaty process.
In 1855, territorial governor Isaac I. Stevens met with representatives from the Umatilla, Yakama, Nez Perce, Cayuse, and Palouse. After more than a week of tense negotiations, the nimíipuu agreed to cede 7.5 million acres of tribal land while still retaining the right to hunt and fish in their "usual and accustomed places". The Treaty of 1855 was ratified by the US Senate in 1859.
In 1860, gold was discovered within the boundaries of the reservation. Rather than stop the newcomers from trespassing on reservation land, the U.S. government instead initiated another treaty council that would shrink the 1855 reservation by 90%, claiming over five million acres. The bands that lived outside of the proposed reservation boundaries walked out of the proceedings and refused to endorse this land grab. Nevertheless, 51 headmen who lived within the proposed reservation boundaries affixed their marks to the new treaty. The US Senate ratified the document in 1867. The 1863 Treaty became known amongst nimíipuu as the 'Thief Treaty' or 'Steal Treaty' and created the conditions that would eventually lead to the armed clash between the Nez Perce and the US Army, now known as the Nez Perce Flight of 1877.
Explore a map of the Treaty Era Sites
Explore all the Treaty Era Sites that make up Nez Perce National Historical Park on the interactive map below. To learn more information about the site, click 'Learn more' at the bottom of the description. Zoom in to see a site or area more clearly.
Last updated: December 29, 2022