Lewis and Clark and the Nez Perce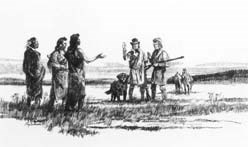 Captains Meriwether Lewis and William Clark crossed Nez Perce country in the fall of 1805 and again in the spring of 1806. With the exception of their winter encampments, the Corps of Discovery spent more time among the Nez Perce than any other group they encountered in their journey. After some initial apprehension, the Nez Perce embraced the expedition, providing aid during a very trying time and remained friendly to Lewis and Clark when they returned in 1806. In the aftermath of the expedition's departure, the promises of a productive relationship with the United States government proved to ring hollow. In a generation, the flight of 1877 would tear asunder any notions of lasting peace and friendship.
The park sites associated with the travels of Lewis and Clark include Canoe Camp, Long Camp, Weippe Prairie, and Lolo Trail and Pass.
Last updated: September 25, 2022