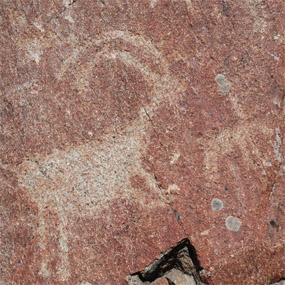 Across North America, Native Americans have left their etchings and paintings on rocks. The Nez Perce are no different. Long before Europeans or Americans first set foot in this country, the Nez Perce left behind vivid evidence of their association with this land. On either side of an eddy formed by a series of sharp bends in the Snake River are densely grouped clusters of petroglyphs and a few pictographs. Known as Buffalo Eddy, the unique petroglyphs of this area are evidence of the longevity of the Nez Perce in the region and contain hundreds of distinct images that possibly date from as early as 4,500 years ago.
Petroglyphs are designs or figures, pecked, abraded or chipped into a rock surface. Pictographs are designs or figures painted onto a rock surface. Native Americans across North America have created various forms of rock art for thousands of years. The meanings of rock art are not known.Perhaps the figures and symbols are a form of storytelling or an expression of spirituality. They could even be a form of artistic expression. We do not know for sure. Every person who sees these images takes away their own meanings. If you would like some more information for a visit, we have a guide to the site.


Archaeological Sites Are Protected by Federal Law
Historical and archaeological sites and the artifacts, features, and objects they contain are protected by federal law.Please help preserve these fragile and irreplaceable resources for future generations.
Do not collect or dig for artifacts

Do not disturb the soil, rocks, or artifacts

Metal detector use is strictly prohibited
The digging, collection, or damaging of these resources on Federal lands is a felony offense and punishable by fines up to $100,000 or imprisonment or both.Report all instances of looting or vandalism to the National Park Service, Nez Perce National Historical Park at (208) 843-7001.