Ancient Places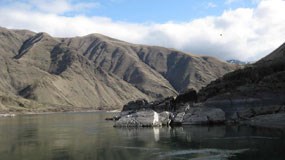 The homelands of the nimíipuu (Nez Perce) have seen continual human use for at least the last 11,000 years. Today, archaeologists study remnants of these ancient sites attempting to reconstruct and understand the traditions and livelihoods of the ancestors of the nimíipuu. Archaeological evidence, taken in conjunction with the oral histories of the nimíipuu, allows for a more complete understanding of the Nez Perce past and provides the setting for the drastic changes that confronted the culture in the 1800s.

Nez Perce National Historical Park helps preserve these some of the ancient places in the nimíipuu homeland. You can experience a slice of the ancient past at Buffalo Eddy, Lenore, and Hasotino.
Explore a map of the Nez Perce Ancient Places
Explore all the Ancient Sites that make up Nez Perce National Historical Park on the interactive map below. To learn more information about the site, click 'Learn more' at the bottom of the description. Zoom in to see a site or area more clearly.
Last updated: December 29, 2022