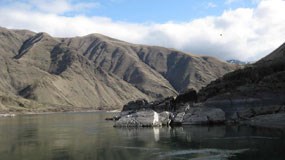 Unlike some Native American groups, the Nimiipuu (as the Nez Perce are known in their own language) have no migration myths or stories. In contrast, the oral history of the Nimiipuu details their presence in this country since time immemorial.
According to the Nimiipuu creation story, It'se-ye-ye (coyote) killed a large monster along the Clearwater River near present day Kamiah, Idaho. Parts of the monster were scattered across the northwest where they each became different regional tribes. It'se-ye-ye left the heart of the monster near Kamiah and sprinkled blood from the heart around the surrounding countryside, thus creating the Nez Perce.The story of coyote and monster provides some insight into the ancient past of the Nimiipuu and their ancestors.

The homelands of the Nimiipuu have seen continual human use for at least the last 11,000 years. Today, archaeologists study remnants of these ancient sites attempting to reconstruct and understand the traditions and livelihoods of the ancestors of the Nimiipuu. Archaeological evidence taken in conjunction with the oral histories of the Nimiipuu, allow for a more complete understanding of the Nez Perce past and provide the setting for the drastic changes to come in the 1800s.
Nez Perce National Historical Park helps preserve these some of the ancient places in the Nimiipuu homeland. You can experience a slice of the ancient past at Buffalo Eddy, Lenore, and Hasotino.