Fishing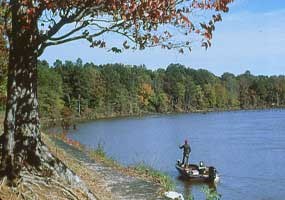 Fishing is a great way to relax on the Natchez Trace Parkway. Fishing is allowed in lakes, rivers and streams all along Parkway. Fishing regulations are determined by each state and vary so please follow the regulations of the state where you are dropping your line.

Fishing licenses issued by the States of Mississippi, Alabama, and Tennessee are valid on all Parkway waters.

Please be aware that you cannot gather any bait on Parkway lands. Please refer to the each state's regulations to determine which baits can be used.
All commercial fishing and freshwater mussel diving are prohibited within the boundaries of the Natchez Trace Parkway.

Links to state fishing regulations:
Mississippi
Alabama
Tennessee

The fishing regulations apply to all "finfish" found in the park. Other taxa, including amphibians, mollusks and crustaceans (e.g. waterdogs, crayfish) are not considered "fish" for the purpose of NPS fishing regulations and addressed by NPS regulations governing "wild life" (36CFR2.2). These fishing regulations apply, regardless of land ownership, on all lands and waters within the park that are under the legislative jurisdiction of the United States.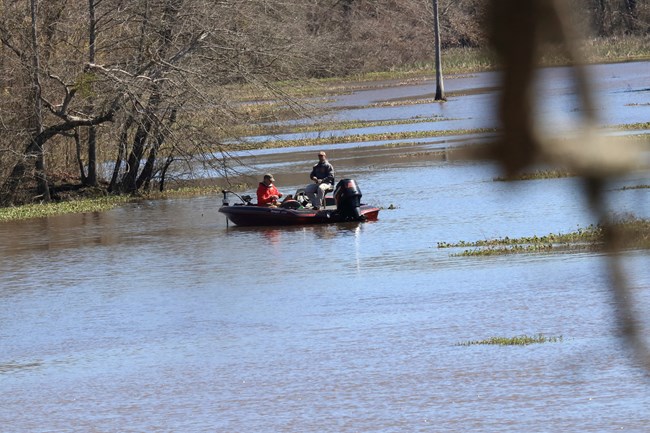 A few popular fishing locations on or near the Natchez Trace Parkway:

Mississippi
Natchez State Park (milepost 8.1)
Ross Barnett Reservoir (milepost 105.6)
Davis Lake (milepost 243.1)
Bay Springs Lake (milepost 293.4)
Tishomingo State Park (milepost 304.5)
J.P. Coleman State Park (milepost 320)
Alabama:
Colbert Ferry (milepost 327.3) Public boat launch available.
Bear Creek (milepost 313.7)
Tennessee:
Duck River (milepost 407.7)
Little Buffalo River
Laurel Hill Lake
Pickwick Landing State Park
Last updated: March 18, 2021