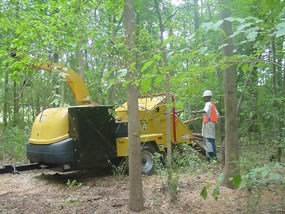 Mechanical Fuel Reduction
Mechanical fuel reduction is the removal of downed fuel from a treatment area by hand and with small equipment. Great care is taken to ensure the area is minimally impacted.
When areas with high fuel loads are found near urban and smoke sensitive areas (such as major roads), mechanical fuel reduction is used. This is of particular importance for the Natchez Trace Parkway, since there is a considerable amount of interface with neighboring communities.