Volunteer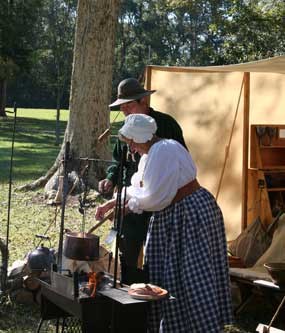 Volunteers play an integral role in the operations of the Natchez Trace Parkway. There are numerous volunteer opportunities available to match your interests.
Campground Hosts: Volunteers stay in one of three campgrounds along the Natchez Trace Parkway and provide information to campers. You will work closely with park rangers to keep visitor statistics, report maintenance issues, perform light clean-up duties, and report violations. Required time commitment: One month.
Interpretive Operations: Volunteers work along side park rangers to provide visitor services at Parkway Visitor Centers and Contact Stations. You will answer routine questions, give directions, respond to visitor requests on the phone and in person. If interested, you can develop your own programs, or present pre-established programs to the general public or visiting schools. Required time commitment for an RV site with full hookups: One person volunteers at least 32 hours per week, two people volunteer at least 24 hours each per week.
Tombigbee Pioneer Group: Volunteers provide living history demonstrations to the public on the fourth Saturday of each month in Tupelo, Mississippi at the Natchez Trace Parkway Visitor Center.
North Mississippi Dulcimer Association: Volunteers teach dulcimer history, tradition, craftsmanship, and music by sharing their knowledge and talents with the general public. Multiple times per year, volunteers play at the Parkway Visitor Center near Tupelo, Mississippi.
Teachers, both active or retired: Volunteer to write or share exciting lesson plans, develop resource materials, or help with field trips.
For more information on these and other volunteer opportunities, please contact the Natchez Trace Parkway Volunteer Coordinator at 1-800-305-7417 or send an e-mail here.
Current Volunteer Opportunities
Last updated: April 14, 2015