Shepherd Parkway - Early History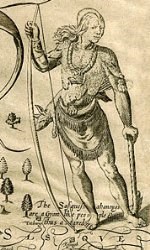 From the first settlers to the American Civil War and through the twentieth century the area known today as Shepherd Parkway has a rich and fascinating history.

Along the Anacostia River stood the Native American trading center of the Anacostan Indians, then called Nacotchtank or "at the trading town". The Anacostans seem to have been part of the Algonquin civilization. For over 500 hundred years before the English arrived the they grew corn, squash, beans, and potatoes on small cleared areas. They hunted turkey, quail, geese, ducks, deer, and bear among the sweet gum, hickory, maple, tulip popular, and oak forest. They caught fish and shellfish in the tidal streams and rivers.

At the beginning of the seventeenth century Captain John Smith recorded in his journals that he sailed up the Petomek River (now called the Anacostia) in 1608 in his search for the main branch of the Potomac River and was well received by these Native Americans. From John Smith and other colonists' accounts historians have been able to piece together details on the local Anacostan culture.

Nacotchtank was also the residence of the chief of the Anacostans. The relationship between the Anacostans and English settlers was based on trade, especially beaver pelts. In 1622, a group of colonists from Jamestown and other nearby tribes ransacked and burned Nacotchtank. In the following year the Jamestown colonists returned to the area and attempted to trade with the Anascostan but were ambushed. It appears that the Anacostans join with the Piscataway. After only 40 years of contact with the Europeans, the population of the local American Indians was only one-quarter of those that lived in the region prior to 1608. While many the Nacotchtanks joined other tribes others died from diseases introduced by the Europeans and in wars. While no evidence of Nacotchank has ever been recorded in modern time, two ossuaries (burial grounds) were discovered in Bolling Air Force Base.

Historians have found a series of archaeology sites, apparently corresponding to small groups of households, extending from Giesboro Point on the Potomac River to Bladensburg, MD.
Concentrations of broken pottery, stone tools, and ceremonial items from the Anacostan occupations have mostly been found in the streams heading into the Anacostia River.

In the late seventeenth century the English crown made large land grants to their citizens and by 1700 frontiersmen had moved into the area around Rock Creek, pushing the Indians living along the Anacostia River out.
Explore more: Shepherd Parkway | Early History | Colonial Era | Civil War | Postbellum
Last updated: August 31, 2017