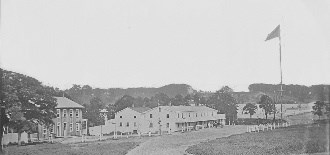 Shepherd Parkway during the American Civil War, 1860-1865

At the onset of the American Civil War in 1861 George Washington Young offered to sell his property to the Government $100,000, the offered was declined. Instead, the Union army rented the land for $6,000 per year. During the following year G.W. Young freed his slaves, when the DC Compensated Emancipation Law was enacted.

During the war Washington became the staging ground for the entire Union Army. 68 fortifications were built to defend the Nation's Capital from Confederate attack. The city doubled in population, soldiers marched down Pennsylvania Avenue, oxen were used to transport military weapons from one fort to another, livestock grazed on the National Mall and Shepherd Parkway was used for fortifications, military roads, a cavalry depot, a cavalry camp (called Camp Stoneman after General George Stoneman, Chief of the Cavalry Bureau), and hospital buildings (Saint Elizabeth being one and the another near Fort Carroll).