Shepherd Parkway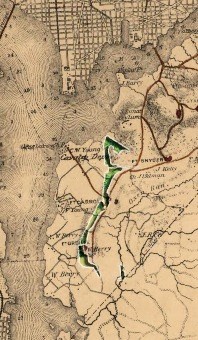 Welcome to the Shepherd Parkway, where the beauty of nature meets the lively streets of an urban society in Southeast Washington, DC.
Shepherd Parkway is part of the Civil War Defenses of Washington. It includes two civil war sites: Fort Greble and Fort Carroll. Today visitors can still see remains of both earthwork fortifications.
On April 11, 1927 the National Capital Parks and Planning Commission acquired what is today Shepherd Parkway to connect the rest of the civil war forts in the Nation's capital for purposes of a parkway called "Fort Drive". While that idea was never realized the park became part of the National Park Service in 1933 and is today a mature wooded forest with a rolling terrace gravel terrain that offers a home to a variety of wildlife.
Explore more about the Shepherd Parkway: Early History | Colonial Era | Civil War | Postbellum
Last updated: September 28, 2017