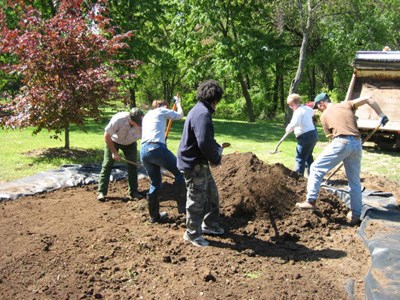 National Park Service Job Opportunities
Applications for jobs with the National Park Service are accepted via USAJOBS, the federal government's official source for federal job listings and employment opportunity information.
Youth Conservation Corps (YCC)

Job description: A six-week employment opportunity based out of Fort Dupont Park during the summer of 2017. The crew will perform trail work, pick up trash, and help with other special projects.
Who may apply: High school students, ages 15-18
More Info: Youth Conservation Corps looks for young individuals to work in parks across D.C., including Urban Archeology Corps and Living Classrooms. There are similar programs at national parks across the United States. Find out about more youth employment opportunities in the National Park Service.

Download the application and submit by mail to:

National Capital Parks-East
Attn: Christopher Hopkins
1900 Anacostia Avenue SE
Washington, D.C., 20020
Applications are due on April 17, 2017. For more information, contact us.

Student Conservation Association (SCA)

Do you like working as part of a team to get things done? Do you just love being outdoors? Join an SCA Crew and plug yourself into SCA's nationwide network of young conservationists –thousands of students who are as passionate as you are about preserving wild lands, protecting nature in urban areas, and keeping the planet green.
Who may apply: High school and/or College students (may not be required to be a student), ages 15-26
Where: Across the United States, including Washington, D.C.
More Info: SCA offers many positions in the Washington, D.C. area, including but not limited to crews working in Anacostia Park, Kenilworth Park and Aquatic Gardens, Fort Dupont Park, and more. There is a one-time $25 application fee, but the fee can be waived. For more information about SCA positions, please visit the SCA's website.
Summer Youth Employment Program (SYEP)

SYEP strives to provide young people with the opportunity to, earn money and gain meaningful work experience; learn and develop the skills, attitudes, and commitment necessary to succeed in today's world of work; gain exposure to various exciting career industries; and interact with dynamic working professionals in a positive work environment.
Who: District of Columbia residents, ages 14-24
Where: National Park Service sites in the District of Columbia
More Info: The Summer Youth Employment Program works with the National Park Service to hire young people to work at Fort Dupont Park and at Anacostia Park. When you apply for the position, note that you would like to work in National Capital Parks-East. For more information about working in a National Park Service site in the District of Columbia this summer, please visit the District of Columbia's government website.