Accessibility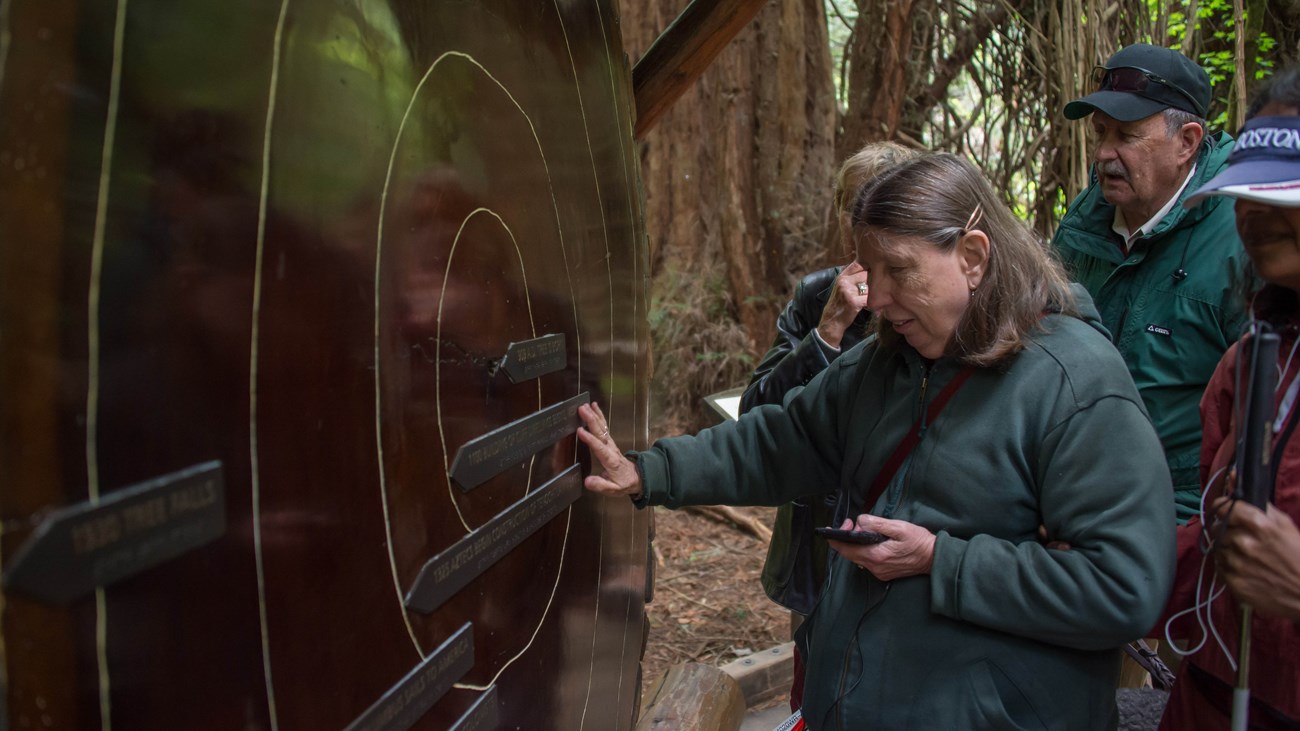 Accessible Features
Designated Accessible Parking
Assistive Listening Devices
Accessible Restrooms
Segments of Accessible Trails
Braille Brochure and Trail Map
Large Print Brochure
Accessible Cafe and Gift Shop
Usable Visitors Center
Service Animals
Service Animals, as recognized by the Americans with Disabilities Act, are allowed:

Service animals are defined as animals that are individually trained to do work or perform tasks for people with disabilities. Examples of such work or tasks include guiding people who are blind, alerting people who are deaf, pulling a wheelchair, alerting and protecting a person who is having a seizure, reminding a person with mental illness to take prescribed medications, calming a person with Post Traumatic Stress Disorder (PTSD) during an anxiety attack, or performing other duties. Service animals are working animals, not pets. The work or task a dog has been trained to provide must be directly related to the person's disability. Animals whose sole function is to provide comfort or emotional support do not qualify as service animals under the ADA.

For more information on the DOJ ADA Revised Service Animal Regulations, please click here.
Muir Woods - American Sign Language
Visit our American Sign Language page for videos in ASL about Muir Woods. The videos are about:
Welcome to Muir Woods (3:58)
Muir Woods Orientation (4:39)
Reservation and Fees (4:39)
Accessibility (4:37)
Trails (9:39)
Conclusion (1:42)
Tree Talk (34:01)
Upon Arrival
As you arrive at Muir Woods, proceed to the main parking lot follow the signs to the accessible parking stalls located closest to the Visitor Center and park entrance. Accessible restrooms are located across from the parking stalls. The surface material within the entry plaza is a compacted mix of recycled asphalt and dirt. The surface is firm and stable. There are several accessible benches located in the entry plaza.
In the Park
Once you arrive, head towards the Visitor's Center. Here is where you can request assistive listening devices for our Ranger Led Tours and Mp3 players containing an audio description of the Muir Woods Brochure and waysides along the Main Trail. The Visitors Center also provides a copy of the Muir Woods Brochure in Braille along with a Braille Trail Map. After stopping at the Visitors Center, follow the raised accessible boardwalk. This boardwalk is part of the Muir Woods Main Trail. If you follow the raised boardwalk to the right it will lead to an accessible gift shop, café and restroom facility. Signage is provided. If you choose to continue into the Redwood Forest, the accessible boardwalk will continue for several hundred feet to the Pinchot Tree Area. There are several informational waysides along the boardwalk. If you proceed past the boardwalk you will encounter an asphalt trail which is usable; however, it contains potholes and severe cracks due to heaving tree roots. As funding and resources allow, we will continue to replace the existing asphalt with an accessible raised boardwalk.

Click on the link to find out what others have to say: www.wheelchairtraveling.com
Departure
As you exit the forest, please return any assistive listening devices and iPods to the Visitors Center. We hope that you have enjoyed your experience at Muir Woods National Monument. Cick here for more information about Muir Woods.

Golden Gate National Recreation Area strives for full and equal participation for all visitors and continually upgrades facilities to make them more accessible. Please feel free to e-mail us comments and suggestions.


Contact Us
Please contact us you need additional information, have questions, or if you experience difficulty accessing the information on this webpage.
By E-Mail
By Mail
Richard De La O
GGNRA Accessibility Program Manager
201 Fort Mason San Francisco, CA 94123
By Phone
(415) 561-4958
Individuals who are deaf, hard-of-hearing, deaf/blind or have speech disabilities may utilize the following Federal Relay Service numbers:
(800) 877-8339 Federal Relay Service
(877) 877-6280 VCO
(877) 877-8982 Speech to Speech
(800) 845-6136 Spanish
(866) 893-8340 TeleBraille
Last updated: February 16, 2023