Nature & Science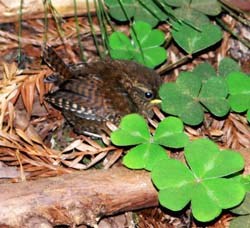 The incredible diversity of flora and fauna at Muir Woods can be daunting some times, elusive at other times. The redwoods themselves dominate the scene, but the Steller's jay often steals the show. Ladybugs clustering by the thousands on ancient horsetail ferns boggle the imagination, while the slimy banana slug is able to disgust and fascinate all at once. Plants adapt to low light levels on the forest floor, while whole plant and animal communities bustle in the canopy above our heads.
John Muir was ahead of the Internet revolution when he wrote,
"When we try to pick out anything by itself, we find it hitched to everything else in the universe."
John Muir, My First Summer in the Sierra (1911)
Explore the Nature and Science to piece it all together or visit the San Francisco Bay Area Network Inventory and Monitoring Program to learn more about critical natural resources in your National Parks.
Learn more about how Climate Change ( https://www.nps.gov/goga/naturescience/climatechange.htm ) is affecting your National Parks. You can also Do Your Part for Parks by understanding and reducing your carbon footprints to help protect National Parks.
To hear more about the Muir Beach Restoration Project please visit the Your Wetlands: A project of the San Francisco Bay Joint Venture at http://www.yourwetlands.org/audio_tours.php#muirbeach Here you will be able to download and listen to educational audio programs about the work happening at Muir Beach.


Last updated: August 9, 2016