Birds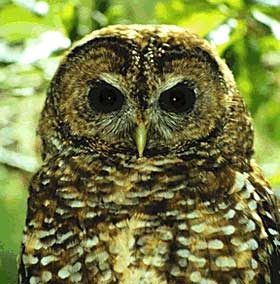 Over 50 species of birds have been identified in Muir Woods over a year's time. Their abundance and periods of song vary with time of day, season, and weather conditions. The greatest variety of avian activity occurs during the spring mornings. A deep, wooded redwood canyon is a specialized habitat. Although this old growth forest supports spotted owls, common raven, and pileated woodpeckers, the overall lack of food is the primary reason for the apparent scarcity of birds. There are few insects in a redwood forest as the tannin repels insects and the deep shade limits the number of flowers and fruits produced. The following quotation from the Superintendent's annual report for 1923 indicates little change during the past 80 years in the bird life found in Muir Woods:
"Birds, as is generally the case in a redwood forest, are conspicuous by their absence - Steller's jay being the only bird seen in any numbers."
We thank the many birdwatchers who have contributed their observations to the Park and invite you to also do the same. Check out the Bird Checklist for Muir Woods National Monument.
Last updated: August 10, 2021