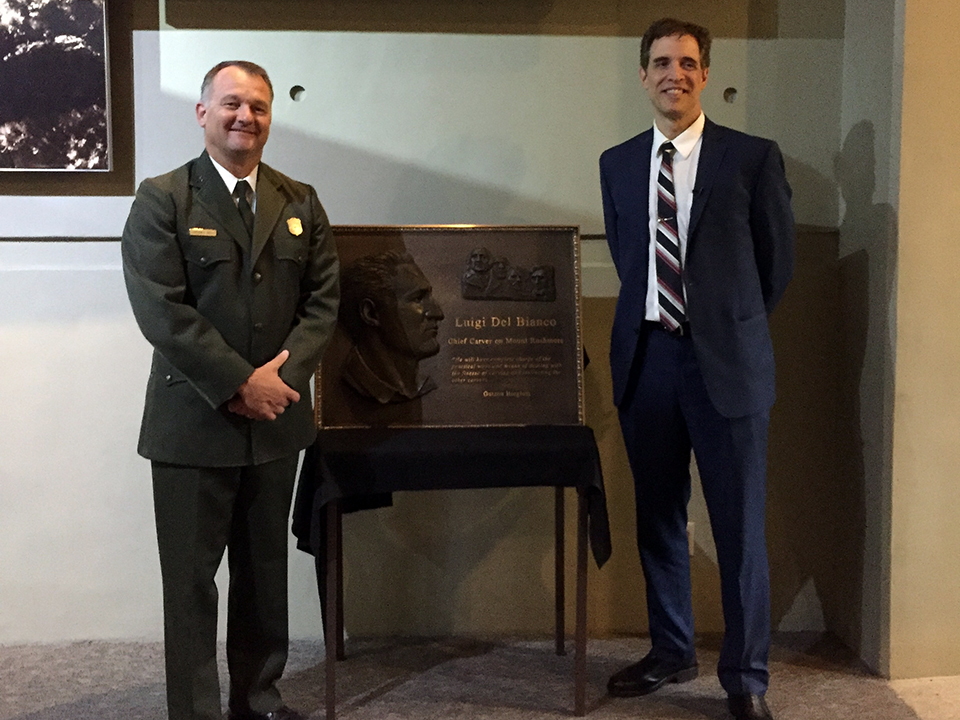 News Release Date:
September 16, 2017 Keystone, SD – On Saturday, September 16, the National Park Service unveiled a plaque to recognize Luigi Del Bianco as the Chief Carver of Mount Rushmore National Memorial.  Del Bianco was responsible for the refinement of expression on the four Presidential faces, including such challenging aspects of the sculpture as Jefferson's lips and Lincoln's eyes.  
In assigning Del Bianco the role of Chief Carver over 80 years ago, Mount Rushmore's designer Gutzon Borglum wrote, "He will have complete charge of the practical ways and means of dealing with the finesse of carving and instructing the other carvers…"  
National Park Service Regional Director Cam Sholly, Superintendent Cheryl Schreier, and descendants of Del Bianco shared remarks about his role in the final appearance of the sculpture during a public ceremony.  Cam Sholly and Lou Del Bianco, Luigi's grandson, unveiled the new bronze plaque, which will be installed under an existing photo of Del Bianco in the Lincoln Borglum Visitor Center. 
"We are proud to recognize Luigi Del Bianco's contributions as Chief Carver at Mount Rushmore National Memorial. His story highlights the artistry embodied in this iconic tribute to our nation's history," said Park Superintendent Cheryl Schreier. "The remarkable effort and diverse talents required to build Mount Rushmore continue to inspire people from all over the world."
Del Bianco was part of a team of almost 400 people who worked at Mount Rushmore over the course of the 14 years of construction. These dedicated workers hoisted others up and down the face of the mountain, shouted messages from the edge to those below, drilled, hammered, carved, and blew up rock to construct the memorial that annually hosts over 3 million people from around the world. 
Del Bianco began working on the sculpture in 1933. He returned to the sculpture in 1935 and was designated the Chief Carver by Gutzon Borglum. Del Bianco had studied stone carving in Austria and Italy before immigrating to the United States from Italy as a teenager. His primary residence was Port Chester, New York where he had a successful stone carving business.