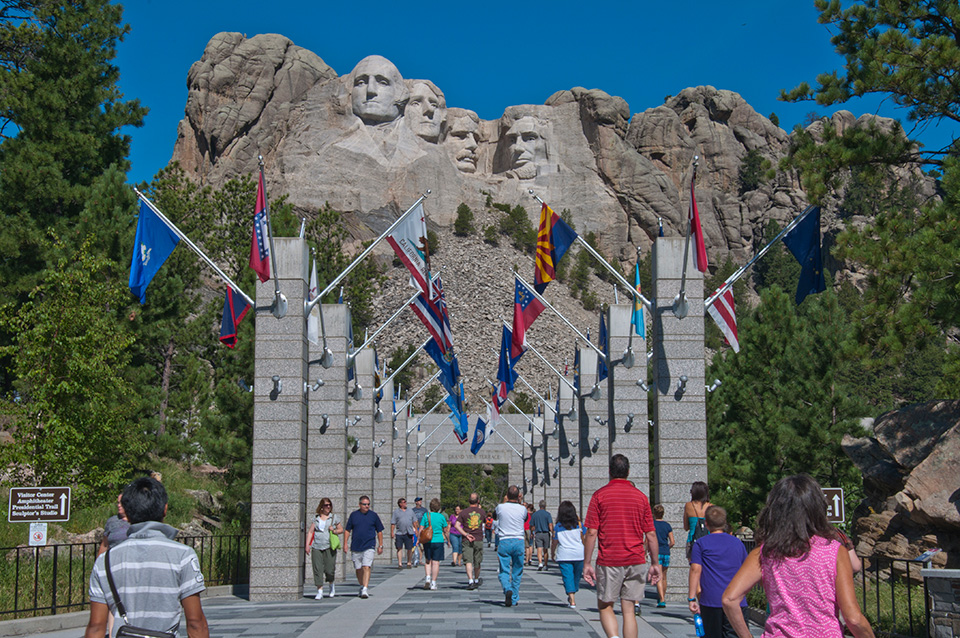 News Release Date:
June 28, 2017
Contact: Maureen McGee-Ballinger, 605-574-3115
KEYSTONE, SD:  Visitors to Mount Rushmore National Memorial on July 3rd will have the opportunity to experience a variety of educational programs, patriotic tributes, and musical entertainment in celebration of Independence Day.   
Planned events include Presidential re-enactors representing the four Presidents on the sculpture:  Washington, Jefferson, Lincoln, and Roosevelt. The Presidential re-enactors will kick-off the park's celebration on July 3rd at 9:30 AM with an in-character news conference in the Carvers' Marketplace. Visitors are encouraged to bring questions for the presidents to the event.  At scheduled times; the Presidential re-enactors will give presentations, sign autographs, and mingle with visitors on the Memorial grounds. Also performing throughout the day will be internationally renowned hoop dancer, Jasmine Pickner-Bell and Sequoia Crosswhite, Native flutist and storyteller.   
July 3rd events will culminate with a special evening program beginning at 6:15 PM featuring the United States Air Force Academy Band performing 2 shows at 6:15 PM and 8:15 PM. The Ellsworth Air Force Base Honor Guard will assist with the Flag Folding Ceremony and Retreat; and the Lakota Flag Song will be performed by Park Ranger Darrell Red Cloud. July 4th visitors can enjoy the usual summer programming including the Evening Lighting Ceremony.   
"We are excited about the Memorial's planned patriotic celebration of our Nation's Independence Day," said Superintendent Schreier. "Visitors to the Shrine of Democracy on July 3rd will have the opportunity to participate in a variety of activities, with the Memorial serving as their inspirational backdrop. We encourage our Black Hills visitors to explore multiple venues across the Hills during their Independence Day weekend celebrations," added Schreier.  
There is no fee to visit the Memorial, however the $10 parking fee will be in effect. Active duty military personnel will park for free and parking for seniors is half price. Keep the parking receipt; it is valid for one year of parking.
For a complete listing of the 2017 Independence Day schedule of events and additional information about the site please visit Mount Rushmore National Memorial's official website at www.nps.gov/moru or call (605) 574-2523.