Spring Opening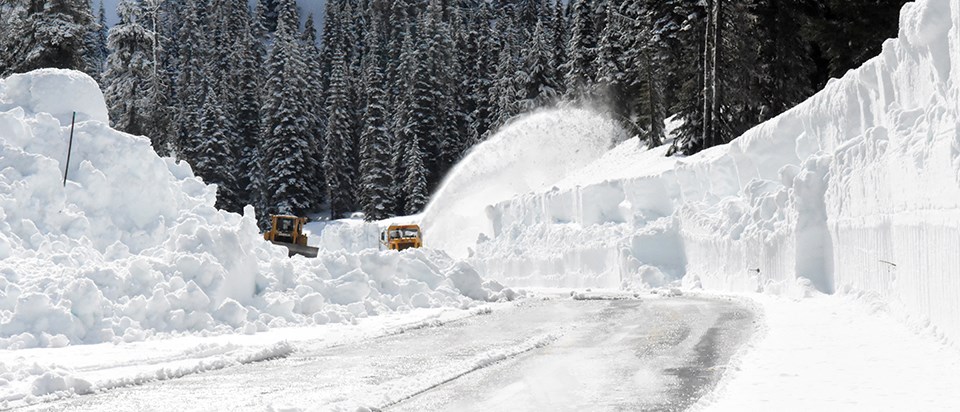 At 14,410 feet, Mount Rainier is the most prominent peak in the Cascade Range. It dominates the landscape of western Washington, standing nearly three miles higher than the lowlands to the west. This majestic glacier-covered volcano has been called "an arctic island in a temperate sea."

This extreme mountain creates extreme weather with an annual average snowfall of 643 inches at Paradise. Snow closes the majority of park roads and facilities in winter. In spring, park and state road crews begin the work to clear the roads of snow while utilities, campgrounds, visitor centers, and other facilities are prepared for the busy summer season. Detailed park access updates are posted on the Alerts & Conditions webpage.
Current Conditions - Spring 2021
Last Updated: 4/26/21
Spring on the mountain looks very different than at lower elevations. There is currently 180" of snow at Paradise with snow cover down to lower elevations such as Longmire and Ipsut Creek. The park has started to plow roads closed in winter for reopening between May and early July. As roads are cleared and areas become accessible park crews will continue reopening efforts by repairing trails, de-winterizing and prepping utilities, installing signs and exhibits, and cleaning and preparing facilities in advance of the arrival of summer visitors.
The following is a summary of the park status as of April 26:
Nisqually Entrance (Southwest entrance) to Longmire and Paradise is open 24/7 as conditions permit. Gate may still close as needed depending on weather/conditions. Always check status before heading out. Check @MountRainierNPS on Twitter (account not required to view) for current status of the Longmire gate and other road updates.
Carbon River Entrance area is open to walk/bike-in traffic. Parking is currently outside the entrance due to road damage.
The majority of park trails are 100% snow-covered.
Campgrounds are closed.
East roads and facilities are closed.
Stevens Canyon Road is closed.
Carbon River Rain Forest Trail is temporarily closed due to fallen trees.
View photos of current snow levels and conditions in the 2021 Spring Opening Flickr Album.
Park Facility Seasons & Hours
Check predicted opening dates and current status of park facilities on the Operating Hours & Seasons page.
Spring Road Opening Status
View the following map and text for the road status updates (click on any section of road or notification symbol for more information). Additional information can be found on the Roads Status page.
For images of spring opening operations in past years, check out the Spring Opening 2019 album on Flickr.


Last updated: April 27, 2021