Spring Opening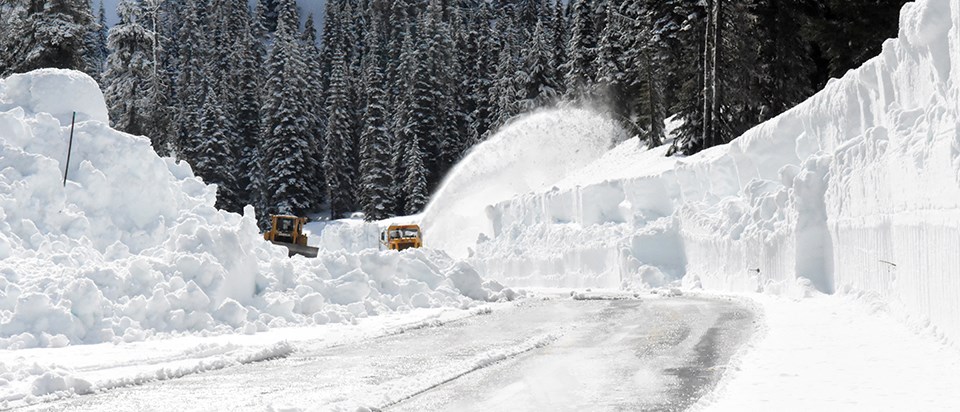 At 14,410 feet, Mount Rainier is the most prominent peak in the Cascade Range. It dominates the landscape of western Washington, standing nearly three miles higher than the lowlands to the west. This majestic glacier-covered volcano has been called "an arctic island in a temperate sea."

This extreme mountain creates extreme weather with an annual average snowfall of 643 inches at Paradise. Snow closes the majority of park roads and facilities in winter. In spring, park and state road crews begin the work to clear the roads of snow while utilities, campgrounds, visitor centers, and other facilities are prepared for the busy summer season.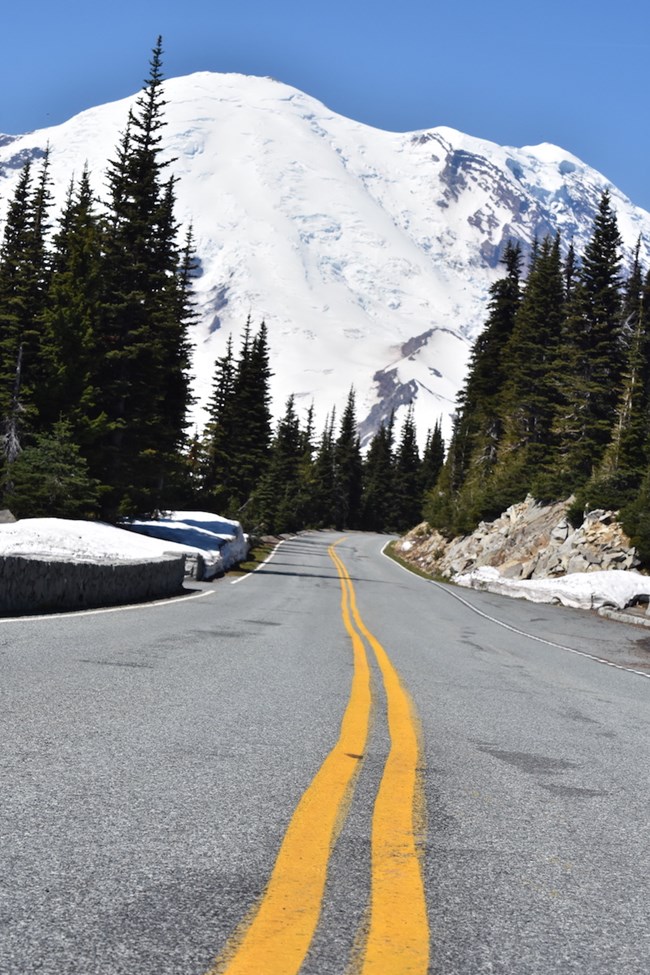 Current Conditions - Spring 2019
Every year, park crews work for many weeks to clear roads and provide access to areas of the park that are closed during the winter season. View the following map and text for the latest updates. Additional information can be found on the Roads Status page.

Last Updated: June 28, 2019
Sunrise and Mowich Lake roads are officially open for the season! The Paradise Valley Road is closed to all vehicle traffic until further notice and the Sunrise Day Lodge opens on Saturday, June 29; all other facilities are now open for the season. To all the staff and crew who put their time and effort into spring opening 2019, thank you!

Spring opening of areas closed in winter is a major endeavor. Utility crews readied water and preformed water quality tests. The interpretive team prepared the Sunrise and Ohanapecosh visitor centers' exhibits and organized work spaces for the summer season. The road crew utilized heavy equipment for several weeks to clear roads of snow and debris. Maintenance staff prepared visitor centers, utility systems, campgrounds and comfort stations for visitor use. Rangers worked to open entrance and ranger stations while the trail crew addressed typical winter debris and damages to park trails. Employees of concessionaire Rainier Guest Services continue their extensive work to get the lodge's snack bar and gift shop back in business for another summer.

The Paradise Valley Road is closed to vehicle use until further notice due to a small are of unstable rock and rock fall. Recreational use of the roadway is allowed, but do not enter the flagged area near the top of the road (near Paradise) and do not linger through that section of the road. See road map below.

In the park's less-visited northwestern quadrant, the Mowich Lake Road has also reopened for the season. The rough, unpaved road provides access to beautiful Mowich Lake, the park's largest lake, as well as various trailheads and a primitive walk-in campground (tents only, no potable water.... details at (http://go.usa.gov/xyYuf).

For more images of spring opening operations this year, check out the Spring Opening 2019 album on Flickr.


Last updated: June 28, 2019