Spring Opening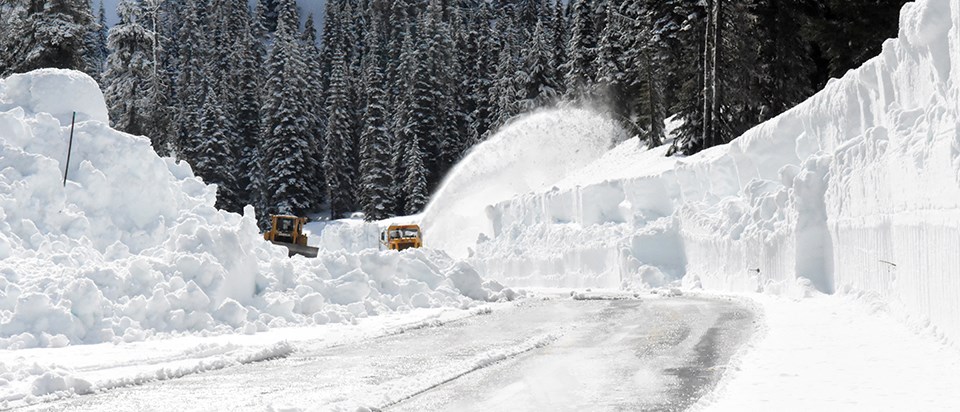 At 14,410 feet, Mount Rainier is the most prominent peak in the Cascade Range. It dominates the landscape of western Washington, standing nearly three miles higher than the lowlands to the west. This majestic glacier-covered volcano has been called "an arctic island in a temperate sea."

This extreme mountain creates extreme weather with an annual average snowfall of 643 inches at Paradise. Snow closes the majority of park roads and eastside facilities in winter. In spring, park and state road crews begin the work to clear the roads of snow while utilities, campgrounds, visitor centers, and other facilities are prepared for the busy summer season.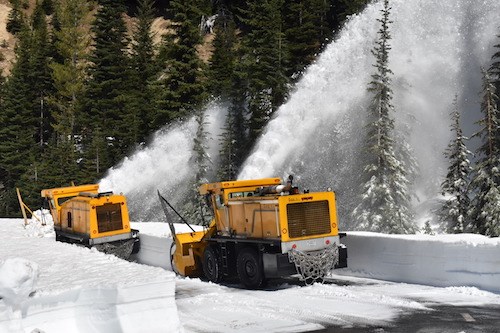 Current Conditions - Updated June 22, 2018
Park maintenance crews are currently working to clear roads and provide access to areas of the park that are closed during the winter season. View the following map and text for weekly updates on the crews' progress. Additional information can be found on the Road Status page.
Longmire/Cougar Rock: The Cougar Rock Campground and the Longmire Wilderness Information Center are open for the season.
Paradise: The Paradise Wilderness Information Center (formerly the Climbing Information Center) is open. Paradise Valley Road is now open for the season.
Ohanapecosh: The campground and visitor center at Ohanapecosh are open.
Stevens Canyon Road: The road is open for the season.
Highway 123: The road is open for the season.
Highway 410: The road is open for the season. However, a short section just north of Cayuse Pass (Hwy. 123 junction) is under construction. During construction, cars may be led through the site by a pilot car. Expect possible brief delays. After hours, a traffic signal will allow traffic to pass through the site in timed intervals. Obey all signage, stop lights, and road worker instructions in the area at all times. Work will continue in the area throughout June.
White River: The road is open from Highway 410 to the trailhead parking area at White River Campground. White River Campground is scheduled to reopen June 22.
Sunrise Road: Snowplow crews have reached the parking lot at the Sunrise Visitor Center. Work continues to remove snow and winter debris from roads, utility structures, and entrances to facilities. Maintenance work on Sunrise utilities and visitor facilities is underway. Estimated road opening is June 28.
Mowich Lake Road: The road is closed to vehicles beyond the Paul Peak trailhead. Maintenance crews are plowing snow and removing debris. Estimated road opening is June 28.

For more images of spring opening operations, check out the Spring Opening 2018 album on Flickr.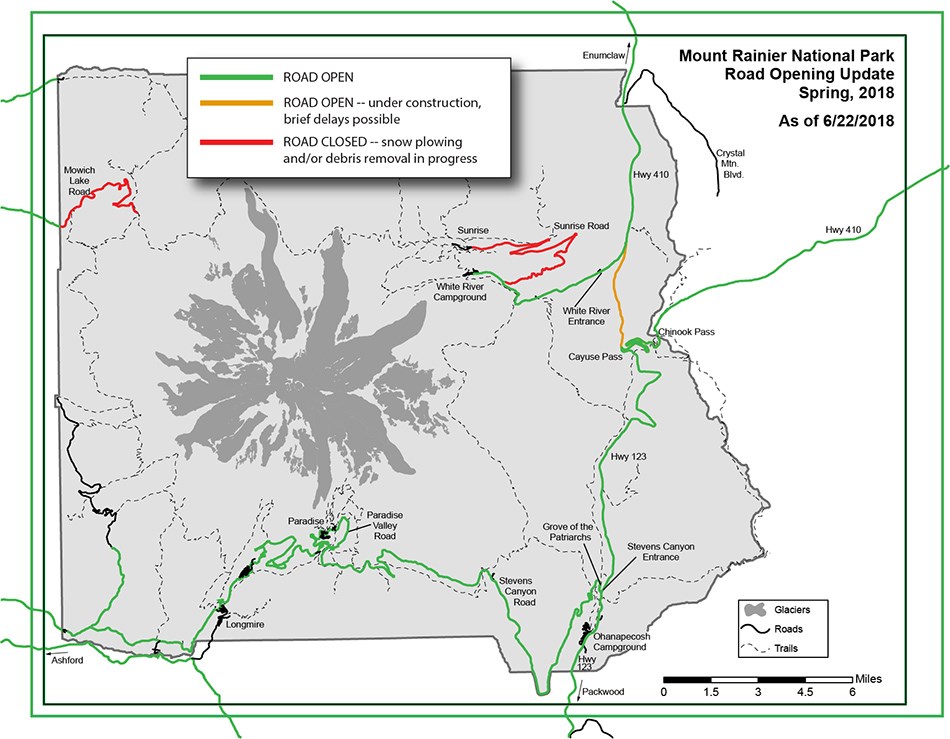 Last updated: June 21, 2018