Spring Opening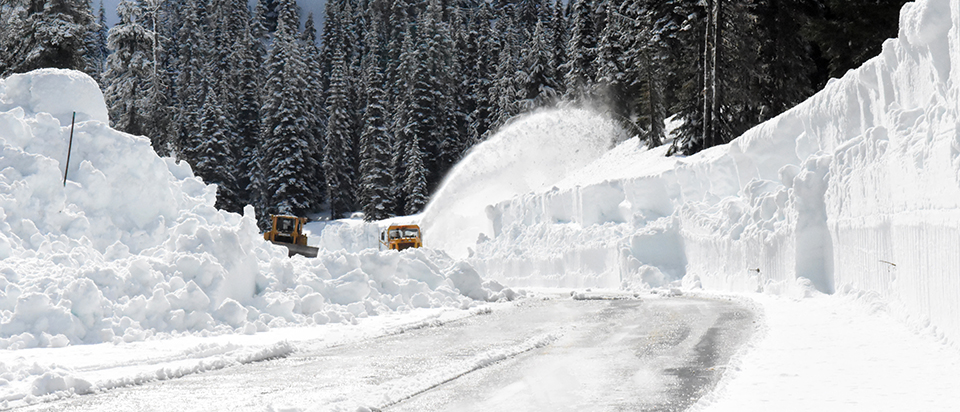 At 14,410 feet, Mount Rainier is the most prominent peak in the Cascade Range. It dominates the landscape of western Washington, standing nearly three miles higher than the lowlands to the west. This majestic glacier-covered volcano has been called "an arctic island in a temperate sea."

This extreme mountain creates extreme weather with an annual average snowfall of 643 inches at Paradise. Snow closes the majority of park roads and eastside facilities in winter. In spring, park and state road crews begin the work to clear the roads of snow while utilities, campgrounds, visitor centers, and other facilities are prepared for the busy summer season.

May 19, 2017 Update
Plowing has begun on Stevens Canyon Road and Paradise Valley Road. It is not safe to enter these areas, especially when plowing is in process.
Steven's Canyon Road will be open to vehicle traffic on 5/20 and 5/21 before closing during the week (beginning 5/22) for further maintainence.
Highway 123 is open to the Stevens Canyon Entrance and Stevens Canyon Road is open to Grove of the Patriarchs.
The road from Longmire to Paradise is now open 24/7, as conditions permit.
410 from the North boundary to the White River Entrance is open across Cayuse Pass.
Work has begun to open the Paradise Inn for the summer season!
Spring Opening 2017 photos on Flickr.

Spring Opening Plowing Map