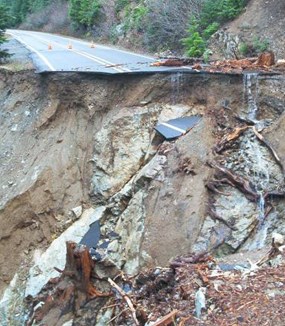 Slide Show Presentations
Rangers at Mount Rainier National Park have created several slide show presentations to explain the storm damage, recovery efforts, and long-term implications for park management.
Flood Damage
PDF(6.98 MB)
November 2006

The Big Picture
PDF(18.8 MB)
February 2007
Videos
After the Flood:
High Resolution (18.4 MB) or Low Resolution (2.33 MB)
Created November 10, 2006. Visit the the former site of Sunshine Point Campground with Superintendent Dave Uberuaga and Hollis Barnett, a long time local resident of the Nisqually Entrance area.

The Emergency Operations Center (1.21 MB)
Created November 11, 2006. Footage of the Longmire Emergency Operations Center, undermined by the Nisqually River.

Damage to Emergency Operations and Riverbed Debris (3.44 MB)
Created November 11, 2006. Close-up of the damage to the Emergency Operations Center and riverbed debris, as viewed from across the Nisqually River.