Environmental Factors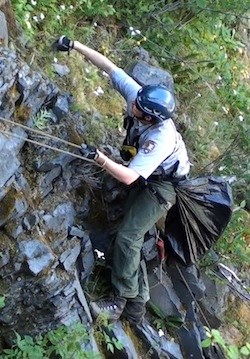 Mount Rainier is a Class I air quality area. The Clean Air Act requires federal land managers to protect park air quality related values, which include scenic, natural, and cultural resources. Air quality impacts have occurred in the park due to recreational use and are a concern, as are regional effects on the park.
The water resources in the park are protected and managed under the Federal Water Pollution Control Act Amendments of 1972, and the Clean Water Act of 1977. NPS Management Policies also require the protection and conservation of water quality in the park.
About 149 exotic (nonnative) plant species are found in the park. Most nonnative species grow in disturbed habitat below 5,500 feet. Their presence is the result of human intervention, not natural migration. About 10% of the species are aggressive, capable of invading undisturbed natural areas and dominating native plant communities.
Every year scientists come to the park to study possible effects of climate change on the glaciers, rivers, and ecosystems of Mount Rainier. Though the thousands of acres of protected wilderness in the park help to mitigate climate change impacts, understanding how climate change alters the landscape is essential for protecting the park into the future. Not just scientists can study climate change- learn how you can get involved in citizen science projects to track climate change at Mount Rainier.
Fire has shaped Mount Rainier's landscape for thousands of years, and is important for the survival of many plants and animals. Naturally ignited wildland fires are beneficial to the park ecosystem, removing dead wood accumulation and recycling nutrients back into the soil. Most fires at Mount Rainier are suppressed but the park Fire Management Plan allows select fires to be managed to benefit the park's ecosystem.


Last updated: February 28, 2020