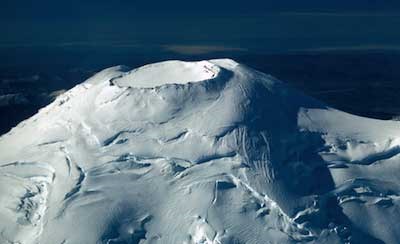 Mount Rainier is an Active Volcano
Over the last 500,000 years five periods of eruptions added layer upon layer of rock to Mount Rainier. The mountain is now 14,410 feet tall. That's the height of ten stacked Empire State buildings.
Volcano scientists are watching and studying Mount Rainier for signs of a future eruption. Although it is not showing signs that it will erupt anytime soon, Mount Rainier is considered an active volcano.
The biggest hazard to people is from lahars (volcanic mudslides) that can happen even without an eruption. Communities around the mountain practice safety drills for a lahar, much like many communities do for tornadoes and earthquakes.