Field Trips
Mount Rainier education programs are offered for school and youth groups Mondays through Fridays. These curriculum-based programs typically take place in the southwest corner of the park, from the Nisqually Entrance to Paradise (map of park). Or, you can arrange for a classroom program.
Programs must be scheduled at least one month in advance. Depending on dates, we can often accommodate group sizes up to 60 (including students and chaperons). Minimum group size is 15 participants. Please inform us if any of your students have special needs. Our priority is to provide a safe and positive learning experience for all students and we will do what we can to accommodate students with special needs.
Ranger-led Education Programs
Available for K-12 students on a variety of topics. These curriculum-based programs are aligned with the new Common Core and Next Generation Science Standards. Registration for fall programming opens August 1, spring programming on February 1, and summer programming on April 1. Please plan on spending at least 3 hours in the park.
All of our current education field trips are listed below. Requests are filled first-come, first-served and will be processed in the order it is received.
Fall 2019 Programs
Program Dates: Check back this summer!

Spring 2019 Programs
Program Dates: April 1 - June 14, 2019

Summer 2019 Programs
Program Dates: June 24 - August 29, 2019
Mount Rainier Institute
Our residential partners that also provide programs within the park.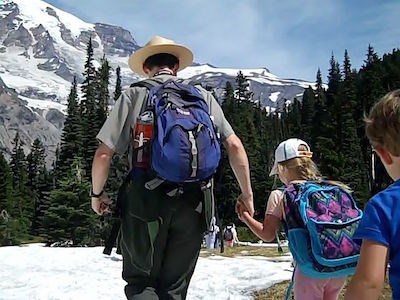 Guidelines For Your Trip
Before your group arrives, it is important to be aware of some basic guidelines. For free entrance to the park, a representative from the school will need to fill out and mail in the Education Fee Waiver form. Regardless of the time of year or weather conditions, everyone will have a more enjoyable and productive visit if they are well-prepared for the day. The following handouts will help inform everyone of the expectations for this field trip to Mount Rainier National Park.
Education Fee Waiver Form
Chaperone Responsibilities
Planning for Your Visit to Mount Rainier
Transcript
Hi, I'm Ranger Annie! We are so excited that you will be joining us at Mount Rainier National Park for your field trip.  Mount Rainier is an icon of the Pacific Northwest and a very special place to visit! We want to make sure that you're prepared and ready for your field trip, so pay attention to the following information.
The weather at Mount Rainier changes constantly, with the climate being generally cool and rainy- and snow occurring during many months of the year. Students must be prepared for changing and sometimes inclement weather. Here are some of the things you will want to bring for your field trip to Mount Rainier National Park.
Sunscreen & Sunglasses! Even on a cloudy day, the sun at Mount Rainier can be intense! Please protect your skin and your eyes!
Layers! Please bring your warmest clothes and lots of layers. Bringing an extra layer of clothing will ensure you stay warm on your field trip. You will also want to wear long pants- no exposed legs or ankles!
Footwear! Since you will be snowshoeing, please wear your warmest shoes! If you have hiking boots or winter boots – wear those! Converse or any other low shoe will not keep your feet warm and dry! 
Gloves, Mittens and a Hat! If you have gloves or mittens, and a warm hat- please bring them! We will be doing some activities in the snow and you will want to keep your hands and head nice and warm!
Lastly- bring some water and snack! It is important to keep your body hydrated and fueled for our snowshoe adventure!
Being prepared for your field trip is important for your safety, your ability to learn as much as possible, and of course, to have fun!  We can't wait for you to join us on the mountain- See you soon!
Visit our keyboard shortcuts docs for details
Duration:

1 minute, 42 seconds
Get ready for your field trip! This video provides important tips to ensure an successful field trip. Being prepared for your field trip is important for your safety, your ability to learn as much as possible, and of course, to have fun!
Classroom Programs
During the school year, park rangers may be available to visit your classroom and discuss topics relevant to both your curriculum and to Mount Rainier National Park. Classroom visits are typically limited to schools within a 2-hour driving radius from the park's education center.

To schedule a classroom visit, please email Mount Rainier's Education Specialist.
Last updated: November 7, 2019