Teacher Workshops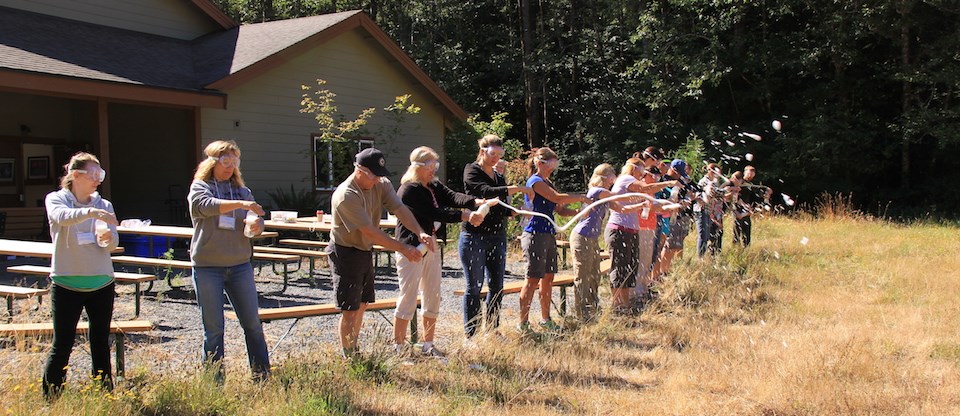 Mount Rainier National Park offers a variety of free education workshops each year. These interdisciplinary workshops combine instruction, activities, field sessions, curriculum development, and curriculum review focus groups. Washington State clock hours are usually available. Unless otherwise noted, workshops will occur at the park's Community Building in Longmire.

2020 Workshop Schedule and Description

July 27-31, 2020

Living with a Volcano in Your Backyard - Mount Rainier
Come spend a few lovely summer days at the park with US Geologic Survey scientists and park educators. The workshop will be a mix of content, curriculum activities, and field experiences. This workshop is designed for middle school teachers who teach about volcanoes, volcanic processes, products, and hazards. The interdisciplinary curriculum focuses on the science of Cascade Volcanoes in general and the specifics of Mount Rainier volcano and the hazards associated with living in its shadow. Participating teachers will receive curriculum materials and additional resources to use with their students.

2020 Living with A Volcano Teacher Workshop Registration

Offered again in 2021

Changes Ahead - Climate Change at Mount Rainier
Spend three days exploring climate change and its impacts on Mount Rainier ecosystems. Participate in Citizen Science projects, learn from park scientists, and spend time working with other educators to discover new ways to incorporate climate change into your classroom or field-based curriculum. Each day will include a mix of classroom time and hiking in Mount Rainier.
Last updated: January 28, 2020