Walking Trails
Explore Monocacy's walking trails and tour historic farms where the Battle of Monocacy raged in 1864. The Junction Trail starts at the park visitor center and covers the area where Jubal Early's Confederate forces deployed to attack the bridge at the river below. The Gambrill Mill area includes an accessible boardwalk to a view of the Monocacy River where Union forces put up a desperate defense. The Worthington Farm area is where Confederate forces crossed the river to flank the Union forces, and the Thomas Farm was hotly contested ground during the battle. Each of these farms has its own story as well; Best Farm was once the home to over 100 enslaved people and one of the largest plantations in Maryland. Along the way, you can discover Maryland's native plants and animals and take in scenic landscape views.

Leashed dogs are welcome. Metal detecting and relic hunting are strictly prohibited. See regulations for more.
Explore Monocacy's Trails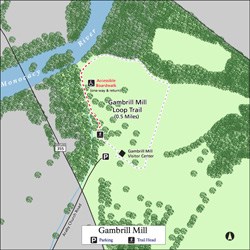 Trails
Visitor Center Trailhead
Tour Stop #1 - Best Farm Trailhead
Tour Stop #2 - Worthington Farm Trailhead
Distance: 1.55-1.6 miles
If the river is flooded, hikers will need to take the high water route.
Distance: 1.9 miles
The steepest trail in the park; includes a section of 19% grade
Tour Stop #3 - Thomas Farm Trailhead
Tour Stop #4 - Gambrill Mill Trailhead
Distance: 0.5 miles
Includes wheelchair accessible boardwalk to river overlook.
Distance 1.6 miles
Ascends the hill above Gambrill Mill and the Gambrill House
Regulations
Park hours 7:30 am until 20 minutes after sunset
For life-threatening emergencies, call 911
For all other emergencies or to report potential illegal activity, call NPS law enforcement at 866-677-6677
Keep pets on leash
Pack out trash and pet waste
No metal detecting, relic hunting, or removing historic objects
No fires
Do not enter farm fields or railroad tracks
No bikes or horses on trails
Last updated: September 1, 2023