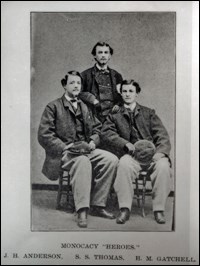 Born in 1818, Christian Keefer Thomas was a Frederick County native. For a large part of his professional life, however, he resided in Baltimore, where he was a partner in the wholesale dry goods firm of Devries, Stevens, and Thomas. In 1839, Thomas married Evelina Virginia Buckey, and within a few years their son Samuel was born. Around 1860, Thomas sold his interest in the dry goods business, and purchased the Araby Farm that same year for $17,823.75. Thomas returned to his native Frederick County to retire, hoping to avoid the impending violence and unrest of the Civil War.
The Thomas family had hardly settled in before the Civil War came to them. Because of its strategic bridges, roads, and railways, both Union and Confederate forces were active in the Monocacy area throughout the period of conflict, particularly during the Antietam (1862) and Gettysburg campaigns (1863).
Although he owned slaves and is generally thought to have been sympathetic to the Southern cause, C. K. Thomas had extensive interactions with the Union army. During the Gettysburg Campaign in 1863, Union General Winfield Scott Hancock headquartered in the Thomas House. Thomas was also friendly with several soldiers from the 14th New Jersey Regiment, who camped nearby at Monocacy Junction during the winter of 1862 and 1863.