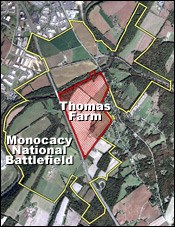 Thomas Farm, with its historic brick mansion, has long been a landmark in Frederick County. The prominent home south of Frederick is thought to have been constructed ca. 1780 by a Scottish merchant named James Marshall. In 1831, the farm came to be known as Araby, and an 1856 advertisement called the property:
THAT BEAUTIFUL AND PRODUCTIVE FARM called "Araby," CONTAINING 261 acres of Land, more or less. ... The improvements are of the best order, consisting of a large TWO-STORY BRICK MANSION HOUSE, with Back Building, suitable for a large family ...
In 1860, Araby was purchased by Christian Keefer Thomas, a retired Baltimore dry goods merchant. C. K. Thomas relocated to Frederick County to avoid Baltimore's pre-war strife; unfortunately, both Union and Confederate troops were actively engaged on Araby throughout the period of conflict.
The Thomas family spent the winter of 1862-63 getting to know members of the 14th New Jersey Regiment, whose duty it was to guard the nearby Monocacy Junction. In June of 1863, Major General Winfield Scott Hancock established his headquarters at the Thomas home for three days while the Union army marched north toward Gettysburg, Pennsylvania.