Thomas Farm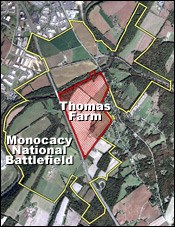 Thomas Farm, with its historic brick mansion, has long been a landmark in Frederick County. The prominent home south of Frederick is thought to have been constructed ca. 1780 by a Scottish merchant named James Marshall. In 1831, the farm came to be known as Araby, and an 1856 advertisement called the property:
THAT BEAUTIFUL AND PRODUCTIVE FARM called "Araby," CONTAINING 261 acres of Land, more or less. ... The improvements are of the best order, consisting of a large TWO-STORY BRICK MANSION HOUSE, with Back Building, suitable for a large family ...
In 1860, Araby was purchased by Christian Keefer Thomas, a retired Baltimore dry goods merchant. C. K. Thomas relocated to Frederick County to avoid Baltimore's pre-war strife; unfortunately, both Union and Confederate troops were actively engaged on Araby throughout the period of conflict.
The Thomas family spent the winter of 1862-63 getting to know members of the 14th New Jersey Regiment, whose duty it was to guard the nearby Monocacy Junction. In June of 1863, Major General Winfield Scott Hancock established his headquarters at the Thomas home for three days while the Union army marched north toward Gettysburg, Pennsylvania.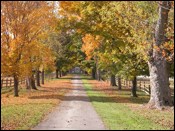 During the Battle of Monocacy, on July 9, 1864, the Thomas Farm was the scene of some of the heaviest fighting of the day. Caught between Union and Confederate lines, the house and outbuildings were captured and recaptured by both armies several times. Confederate artillery posted at the nearby Worthington Farm caused severe damage to the house while attempting to dislodge Union sharpshooters. C. K. Thomas and his family took refuge in the cellar of the house during the battle. Among those hiding in the cellar was Alice Thomas' friend Mamie Tyler Gatchell, who recalled:
Pieces of shell were flying too near to be pleasant ... Minié balls slashed the shubbery, while the larger missiles of War's fearful instruments twisted huge limbs from the trees, leveled down chimneys, & tore out an angle of the house.
In August of 1864, Lieutenant General Ulysses S. Grant stayed with the Thomas family and used their home to hold a "council of war." During that meeting, Grant confirmed with General Phil Sheridan a plan to secure and destroy Confederate resistance in the Shenandoah; a plan that Sheridan carried out in the fall of 1864.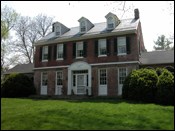 After the Civil War ended, the Thomas Farm returned to its previous prosperity; in fact, by 1868 the farm had sufficiently recovered to serve as the setting for 21-year-old Alice Thomas' wedding. C. K. Thomas died in 1889; his obituary described him as a "gentleman of pleasant manners" and remarked that "his beautiful home was noted for its hospitality and delightful social entertainments." The farm remained in the Thomas family until 1910. It was acquired by the National Park Service in 2001, and today the Thomas House is home to the park headquarters.


Last updated: June 12, 2020