Person
Winfield Scott Hancock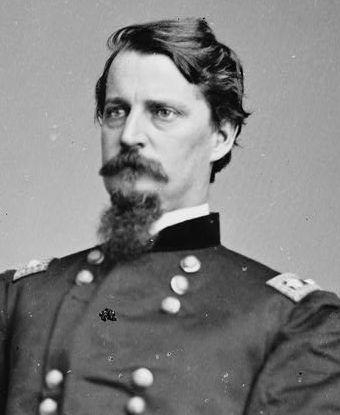 Significance:
U.S. Army General (Mexican War, Civil War, Indian Wars), U.S. Presidential Candidate (1880)
Place of Birth:
Montgomeryville, PA
Date of Birth:
February 14, 1824
Place of Death:
Governors Island, NY
Date of Death:
February 9, 1886
Place of Burial:
West Norriton Township, PA
Cemetery Name:
Montgomery Cemetery
Named for Winfield Scott, a noted general of the War of 1812 and head of the United States army at the start of the Civil War, Winfield Scott Hancock, after graduating from West Point in 1844, started his four-decade military career as a brevet second lieutenant in the Mexican-American War followed by service as a captain during the very end of the Third Seminole War, as well as a number of peacetime assignments.
He was stationed in Los Angeles at the start of the Civil War, but returned east where Maj. Gen. George B. McClellan appointed him a brigadier general in September 1861 and he joined the Army of the Potomac.
Hancock's skill was noticed early on in the war, particularly after his efforts during the Battle of Williamsburg and the Battle of Antietam, and by November 1862, he was promoted to major general. Today he is most noted for his performance as a corps commander during the Battle of Gettysburg, however, where his tactical moves and encouragement of his troops, despite sustaining a serious wound from which he never fully recovered, earned him an official thanks from Congress.
He remained on the front throughout the 1864 where he performed with distinction at the Wilderness, Spotsylvania Court House and Cold Harbor, but complications from his Gettysburg wound forced him to leave the field in November 1864, after watching his II corps suffer in excess of 40,000 casualties during the Overland Campaign alone. He assumed departmental command instead, a position he held until the war's end.
After the war, he continued to serve various military assignments including supervision of the Lincoln assassination conspirators' execution and the overseeing of Reconstruction efforts in the south. On the Great Plains in 1867, Hancock struggled to advance U.S. interests, and his actions in Kansas led to a season of violence known as "Hancock's War." Extremely well-liked and noted for his integrity, Hancock's popularity as a leader continued after the war, most notably with his nomination as the Democratic candidate in the presidential race of 1880, although he was defeated by Republican candidate (and fellow Civil War veteran) James A. Garfield.
After the election until his death in 1886, Hancock continued to serve as commander of the Division of the Atlantic and was head of a number of national veterans organizations, including the National Rifle Association, Military Service Institution of the United States, the Military Order of the Loyal Legion of the United States (MOLLUS) and the National Rifle Association.
Last updated: February 14, 2018