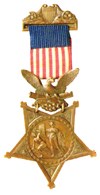 The Medal of Honor is the highest award in the United States military that a soldier can be awarded for bravery or valor against an enemy. The medal was first established for naval enlisted men on December 21, 1861. Seven months later, on July 12, 1862, a medal was authorized for Army enlisted troops. The law was changed in March 1863 to include Army officers, but it was not until 1915 that Navy or Marine officers were eligible.
The Medal of Honor was originally created to recognize the fighting soldier since there was no existing award that did so and was only to be issued during the Civil War. In 1863, however, Congress made the award permanent.
Between 1861 and 1865, 1,522 Medals of Honor were issued. Of these, 32 were issued posthumously. The last Medal of Honor awarded to a Civil War soldier was presented on 16 January 2000.
At the Battle of Monocacy, two Medals of Honor were awarded: