1st Lieutenant George E. Davis, U.S.A.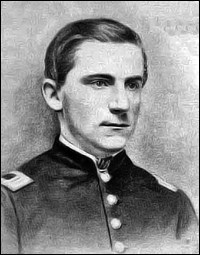 George Davis was born December 26, 1839 in Dunstable, Massachusetts. In 1861 Davis was working as a clerk in a store in Burlington, Vermont when he enlisted in the 1st Vermont Infantry for three months. The 1st Vermont saw action at the battle of Big Bethel, Virginia in June 1861. At the end of its three months the 1st Vermont was mustered out. Now a civilian, Davis returned to his clerk position in Vermont.
In July 1862 President Abraham Lincoln called for more troops. Experienced men were needed for the 10th Vermont Infantry and Davis enlisted for three years as a private in Company D. He was almost immediately elected to the rank of 2nd lieutenant. In January 1863, Davis, whose attention to detail and steadiness under fire had been noticed by his superiors, was promoted to 1st lieutenant.
At the Battle of Monocacy on July 9, Davis commanded a small Union detachment at Monocacy Junction. During the day long battle Davis and his men held their position guarding the bridges against repeated Confederate assaults aiding in the delay of the Confederate force. Davis served with the 10th Vermont through the campaign in the Shenandoah Valley and was promoted to captain. While at winter quarters in Petersburg, Virginia Davis was injured when the log cabin he was in collapsed. Due to a disability incurred in the accident he was discharged from the army.
On May 27, 1892 George E. Davis received the Medal of Honor for his valiant defense of the bridges at the Battle of Monocacy. He died June 28, 1926 at the Vermont Soldiers' Home in Bennington, Vermont.
Last updated: April 10, 2015