Corporal Alexander Scott, U.S.A.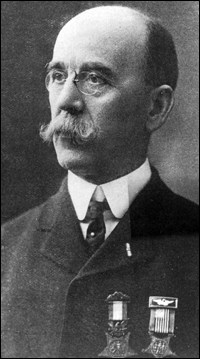 Alexander Scott was born August 19, 1844 in Montreal, Canada. In 1862 Scott, a farmer, enlisted for three years as a private in Company D, 10th Vermont Infantry Regiment at Burlington, Vermont.
Scott fought at Locust Grove on November 27, 1863. Soon after the battle he was appointed to the color guard. Carrying the colors was considered a great honor, though a dangerous one, as color bearers often became the focus of enemy fire. Scott was promoted to corporal January 1, 1864.
At the Battle of Monocacy on July 9, Scott was in some of the heaviest fighting of the battle on the Thomas Farm. During the Union retreat, the regiment's color sergeant fell out due to exhaustion. Under heavy enemy fire Scott took the National colors, in addition to the state flag, and carried them off the field to safety. At the Battle of Cedar Creek, Virginia on October 19, during the charge of the 10th Vermont to recapture the guns, Scott was knocked down by a bullet striking his blanket roll and left shoulder. However, he was among the first to reach the guns. Later in the day, Scott was shot in the leg.
Any soldier who saved his flag from capture was held in high esteem. On September 21, 1897 Alexander Scott received the Medal of Honor for saving the national flag of the regiment from capture at the Battle of Monocacy. He died May 26, 1923 and is buried in Arlington National Cemetery.
Last updated: June 12, 2020