News Release
3-14-2023 Cima Road will close March 20 at Mojave National Preserve due to construction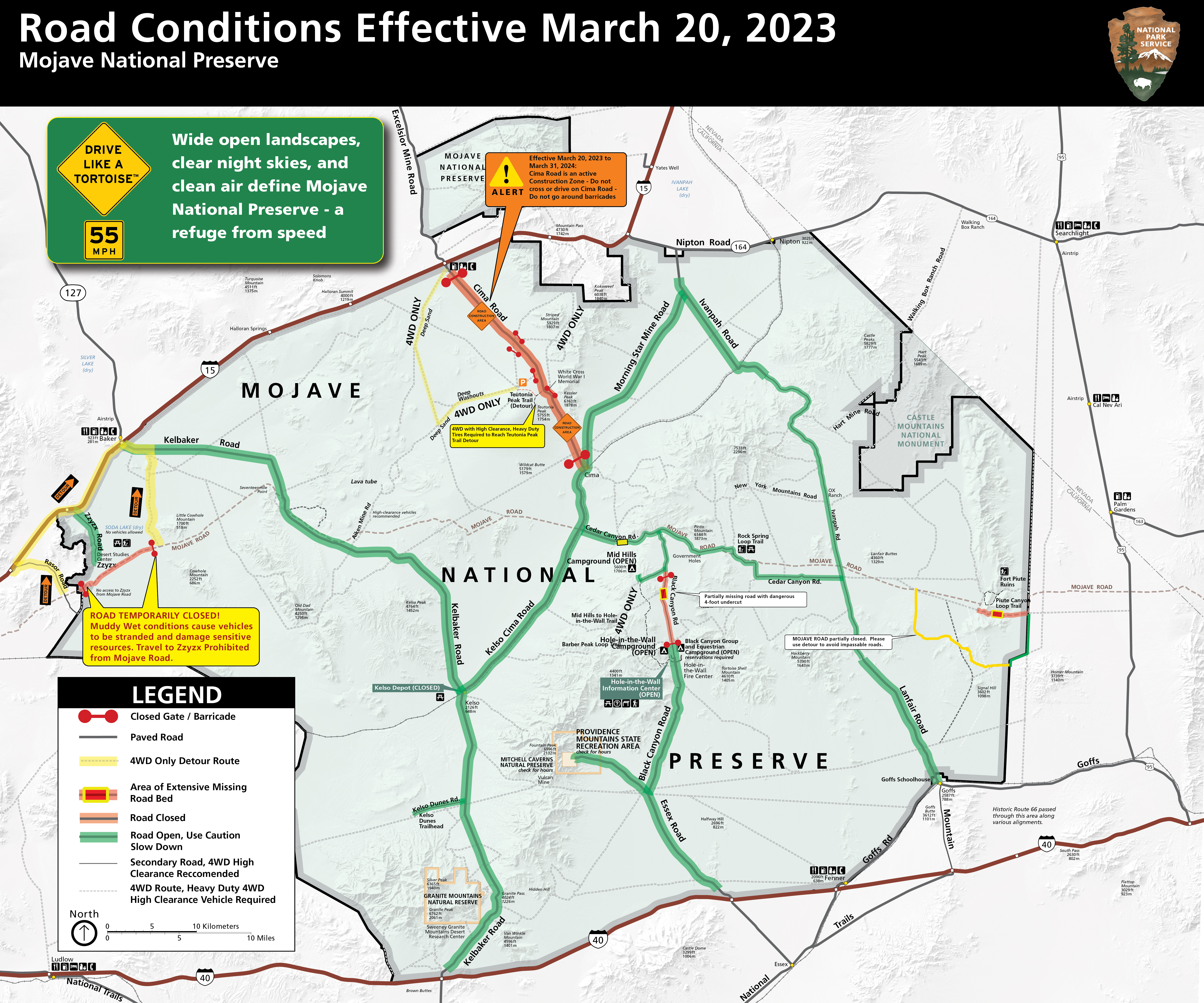 News Release Date:
March 14, 2023
Contact: 'Sierra' Christopher Willoughby, 760-252-6124
Contact: Mojave National Preserve Visitor Information Line, 760-252-6100
KELSO, Calif. – On March 20, Mojave National Preserve anticipates initiating a major road construction project along 17.6 miles of Cima Road.
Cima Road connects to I-15 at exit 272 and ends at the intersection of Kelso-Cima Road and the Morning Star Mine Road located within the Preserve. The road construction will require the closure of the Cima Road for approximately one year, requiring a detour to North Kelbaker Road or Morningstar Mine Road.During the Cima Road construction, access to the Cima Dome, White Cross World War I Memorial, and Teutonia Peak Trailhead will be limited to visitors who can access the area via unimproved roads that require a heavy-duty four-wheel drive vehicle.
In light of public safety and to protect road crews working in the area, visitors must avoid driving on or across the active construction zone of Cima Road during this closure. Driving around cones, barricades and signs will be prohibited.
This $24M dollar project will improve visitor safety and involve infrastructure designed to reduce mortality of the Federally Listed Desert tortoise (
Gopherus agassizii
) from motor vehicles impacts.
Cima Road is expected to be closed until March 2024.
Maps, and other updates on road conditions and closures are available at
https://www.nps.gov/moja/road-conditions.htm
Last updated: March 14, 2023