Road Conditions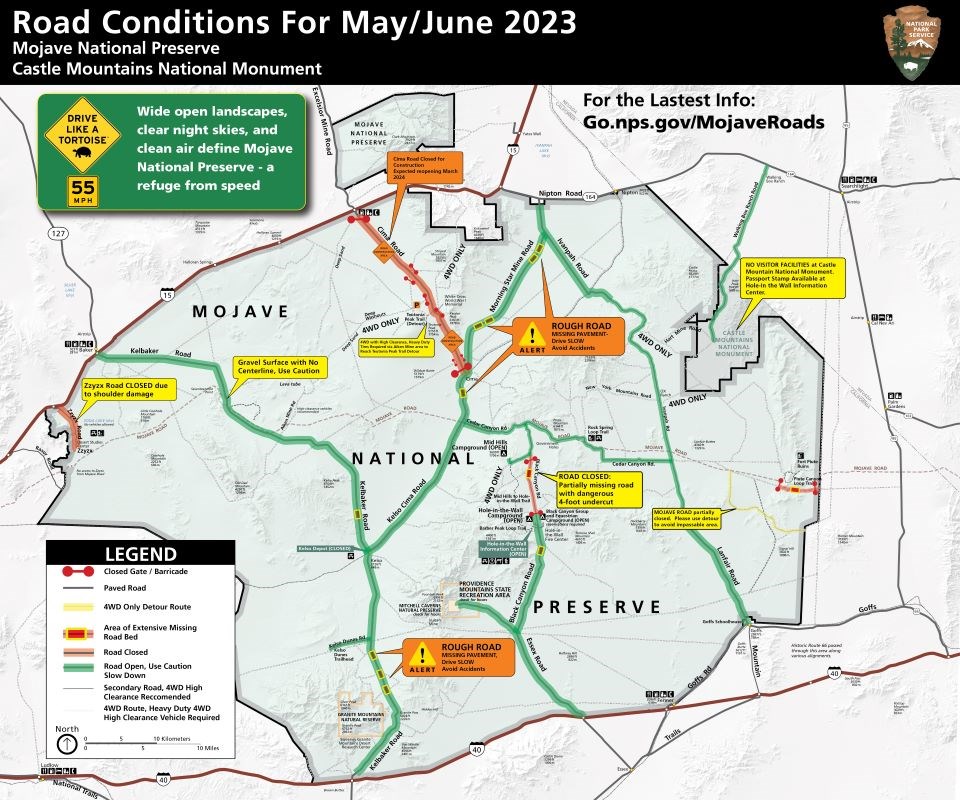 Desert Driving Pro Tips
Required knowledge for a successful desert adventure. 
Do not rely solely on automated mapping and driver assisted applications, they often lead you astray in and around the preserve. Bring an old-timey paper map or atlas for backup and to teach the crew the ways of the ranger. Check here for updated road conditions from the National Park Service. 🗺️ Don't rely on your phone for in the preserve for navigation where coverage is spotty at best, except for pictures at scenic locales!
Cities for GPS
Kelso, California
Hole-in-the-Wall, California
Avoid using Mojave, California. This will take you 168 miles away from the park!

Directions to Kelso Depot
From I-15: Exit Kelbaker Road at Baker, California, and drive south 34 miles to Kelso Depot.
From I-40: Exit Kelbaker Road (28 miles east of Ludlow, California) and drive north 22 miles to Kelso Depot.

Directions to Hole-in-the-Wall
From I-40: Exit Essex Road and drive north 10 miles to the junction with Black Canyon Road. Hole-in-the-Wall is 10 miles north on Black Canyon Road.
Mojave's rugged nature, large size, and remote locations make assessing, designing, and repairing roads a constant challenge for park maintenance crews. Roads are closed by the superintendent for public safety or to preserve the character of the road bed.

Please do not move barricades or bypass signed or coned-off closures. Park rangers are patrolling closed roads, turning back travelers, and issuing citations.
Speed Limits on the paved roads are 55 mph or less. Please obey posted speed limits for your safety and help keep wildlife alive.

Tortoises and Traffic
Tortoises travel long distances in search of food and water and will cross highways through their territory.
Slow your roll. Motorists must observe posted speed limits.
Keep an eye out. Watch for tortoises crossing the road, especially during rainy weather. Tortoises are attracted to puddles that form on roadways during rainstorms.
Always look under your car before driving away. Tortoises enjoy resting in the shade of parked cars.
Keep vehicles on established roads only. Vehicles will crush tortoise burrows, killing the tortoises and eggs within.
Be a tortoise crossing guard! Never pick up a tortoise unless it is immediate danger. From a distance where the animal's behavior remains unchanged, watch to ensure the tortoise makes it across the road safely. Take a GPS from your phone and email your sighting to neal_darby@nps.gov. Every tortoise is important as they are threatened. The NPS is currently monitoring desert tortoises and relies on sightings from the field to help protect this cool animal.
Enjoy a stress free vacation by not worrying about running out of gasoline. Gas is not sold in Mojave National Preserve. In addition, there are no gas stations where Kelbaker Road meets Interstate 40.

Visitors to the north side of the preserve can fill up in Barstow, Baker, Cima, Primm, Jean, Henderson, or Las Vegas. 

Visitors coming from the south should fill up near 29 Palms, Amboy, or take a detour on Interstate 40 to the nearest gas stations in Fenner or Ludlow. Needles (east) or Barstow (west) are farther but also have gasoline. The preserve is filled with long inclines and mountains that will drain your tank, so it's best to come with a full tank if you want to explore without running on E. 
Potable water can be found at the following locations:
Kelso Depot bathhouse

Hole in the Wall Visitor Center

Hole in the Wall Campground
Outside of those locations, there are no other public water facilities in the preserve.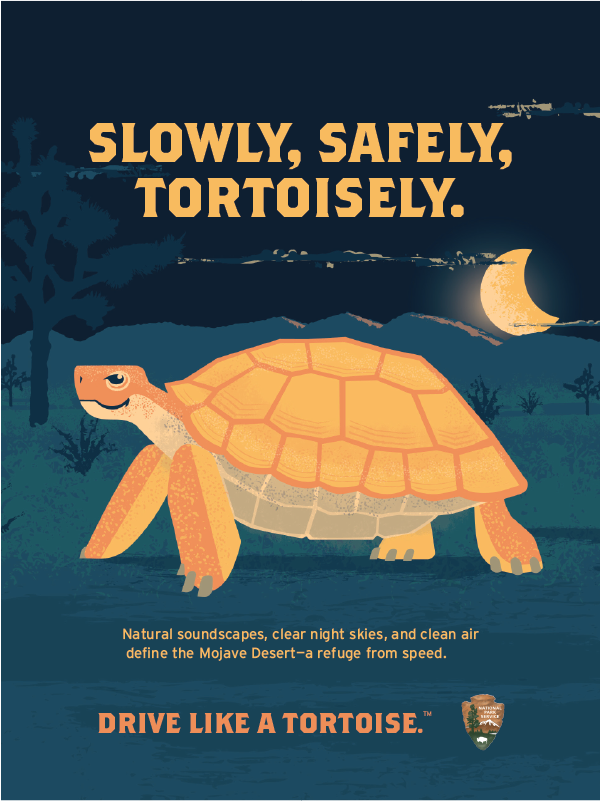 Primary Roads
Road
Status
Notes
Black Canyon Road

CLOSED Between Hole-in-the-Wall Campground and Mid Hills Campground Junction


OPEN Between Essex Road and Hole-in-the-Wall Campground.

OPEN from Cedar Canyon Road to Mid Hills Campground.

No Access to Hole in the Wall area from the north or from Cedar Canyon Road.

Closure requires visitors to access the Hole in the Wall area soley via Interstate-40 and Essex Road (Exit 100). All routes north of the Hole in the Wall area are either CLOSED or required heavy duty 4WD on backcountry routes.
Essex Road
Open
Access to Mitchell Caverns and Providence Mountains State Recreation area is open via Exit 100
Ivanpah Road
Open
Watch for bumpy areas and tortoise on roadway
Kelbaker Road
OPEN - Ignore closures on GPS apps
Road open between Baker and Kelso, and Kelso to Interstate-40. Disregard GPS apps that route you through Ivanpah and Nipton Roads to access Interstate 15.

No centerline in seventeen mile point area, use caution. Open to all non comercial vehicles.
Cedar Canyon
Open
Open, but dont use this road if you want to get to Hole-in-the-Wall from the north
Kelso-Cima Road
Open
Drive Like a Tortoise and slow your roll. Speed Limit 55 MPH
Cima Road



CLOSED 3/20/2023 to 3/31/2024 to All Vehicles

Cima Road CLOSED due to construction. Access to Teutonia Peak Trail, White Cross World War I Memorial requires independent use of a map and routefinding with a heavy duty 4WD high clearance vehicle on approved backcountry routes.



In order to protect public safety and road crews in the area, DO NOT DRIVE ON OR CROSS CIMA ROAD DURING CLOSURE with any vehicle

.

Morningstar Mine Road
Open
Drive Like a Tortoise and slow your roll. Speed Limit 55 MPH.
Zzyzx Road
CLOSED
Zzyzx Road closed at park boundary due to unsafe conditions. Expected repair time is mid June 2023.

Trespassing prohibited around buildings of Desert Studies Center without prior arrangements. Visit CSU Fullerton Website for more information
Backcountry Roads
March 14, 2023 Update:
Deep snow drifts from an early March 2023 snow may cover some backcountry routes.
Many unimproved and backcountry roads in the preserve require high clearance of 8" or more and 4-wheel drive.

Road conditions can change quickly. Check with a ranger for vehicle requirements and conditions on the specific roads you plan to travel before you leave the pavement.

Cell phone service is unreliable or nonexistent in most of Mojave National Preserve.
Road
Clearance
Description
Aiken Mine (Lava Tube Access)
2WD High Clearance Required
NEW! Beginning March 16, the 2WD high clearnance route from Kelbaker Road and Aiken Mine Road will be OPEN
Black Canyon
CLOSED between Hole-in-the-Wall and Mid Hills areas.
No access between Mid Hills Campgound area and Hole-in-the-Wall Campground area. Use Interstate-40 and Essex road as alternate route.
Wildhorse Canyon Road available for heavy duty high clearance 4WD vehicles as an alternative route.
Brannigan Mine
4WD High Clearance
deep washouts, may be impassible to even expereinced 4WD vehicle operators.
Castle Mountains
4WD High Clearance
Very rough roads.
Cedar Canyon
2WD
Recent aggregate and grading operations have made this a very passable road. Use caution after any rains, beware of washouts.
Clark Mountains
4WD High Clearance
All roads need 4WD and high clearance.
Colosseum Mine
4WD High Clearance
Beyond BLM boundary. Steep grades, impassable in sections.
Deer Springs
4WD High Clearance
Sandy with deep washouts.
Fort Piute
4WD High Clearance
Very rocky; no street tires. The rocks are sharp and pointy, likely to puncture a tire.
Globe Mine
4WD High Clearance
Sandy in spots.
Green Wells Cutoff
4WD High Clearance
Rocky with washouts.
Hidden Hills
4WD High Clearance
Sandy with washouts.
Ivanpah
4WD High Clearance
Extensive debris and missing roadbed / washouts
Kelso Dunes
2WD / 4WD High Clearance
Rough with lots of pot holes. 2WD accessible to the main trailhead and dispersed camping area. 4WD high clearance required west of camping area and along powerline road.
Lanfair
4WD High Clearance
Potholes in pavement section. Sandy in the washes, but with no flooding a two-wheel drive could make it to the junction with Ivanpah. Use caution.
Macedonia Canyon
4WD High Clearance
Sandy and rocky. Many vehicles (even Jeeps with external gear) will not be able to fit under train tressle towards Kelso-Cima Road to access this drive. Access to eastern end of road impacted by closure of Wildhorse Canyon Road.
Mojave Road



Accessing Mojave Road via Kelbaker OPEN





Closed at Paiute Gorge (detour available)





OPEN in other areas

Soda Lake crossing OPEN as of 4/30/2023

Washout on east side of Paiute Range (35.0905677, -115.0028316) makes road impassable to all vehicles. Check map for available detour route (access points found at 35.107054, -115.052624 and 35.039974, -114.978447).

4WD with heavy duty tires, 4L low range transfer case, and high clearance required for safe travel in other areas of the road.
New York Mountains
4WD High Clearance
West of Carruthers Canyon, sandy and rocky with washouts.
Valley View
2WD / 4WD High Clearance
2WD until you reach the ranch. Afterwards its 4WD and high clearance beyond the ranch.
Vulcan Mine
4WD High Clearance
Very rough on east side.
Walking Box Ranch (Castle Mountains NM)
2WD / 4WD High Clearance
2WD accessible, but any roads off Walking Box Ranch Road are 4WD high clearance only.
Wildhorse Canyon
4WD High Clearance
Sandy, rocky, and uneven breaks in some sections.
Wood Wash
4WD High Clearance
Sandy with washouts.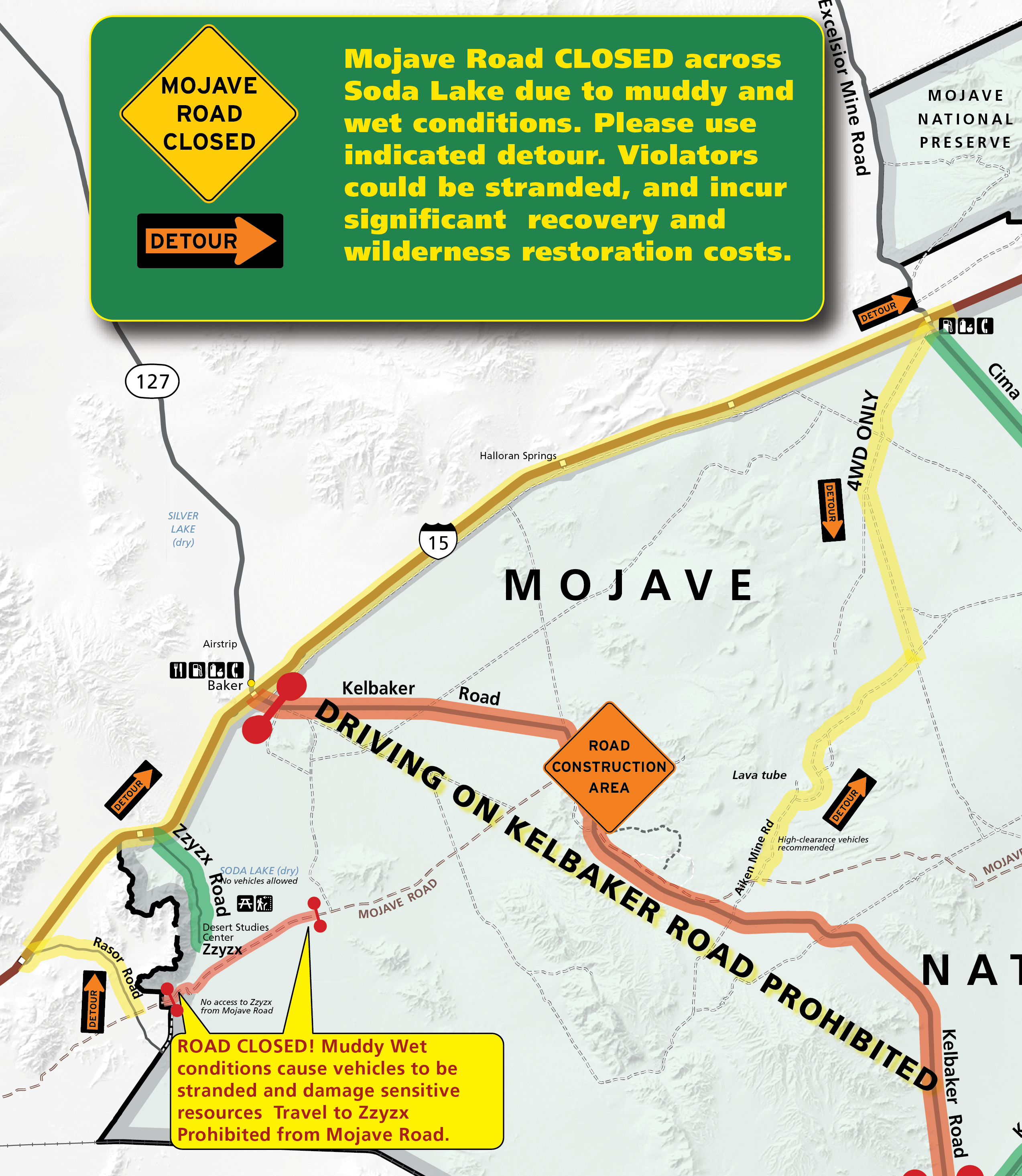 Mojave Road Closed Across Soda Lake
Mojave Road is closed across Soda Lake due to wet and mudding conditions. Please use the attached detour route. Violators could be stranded and incur significant recovery and wilderness restoration costs for driving on the lake bed in muddy conditions.
The long and winding road takes constant maintenance.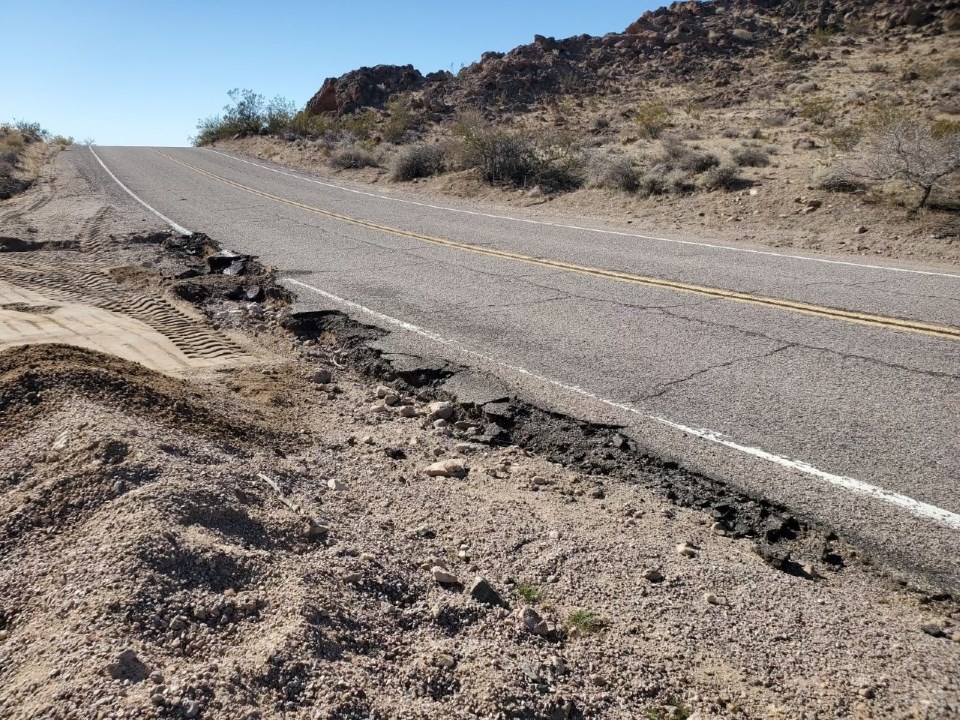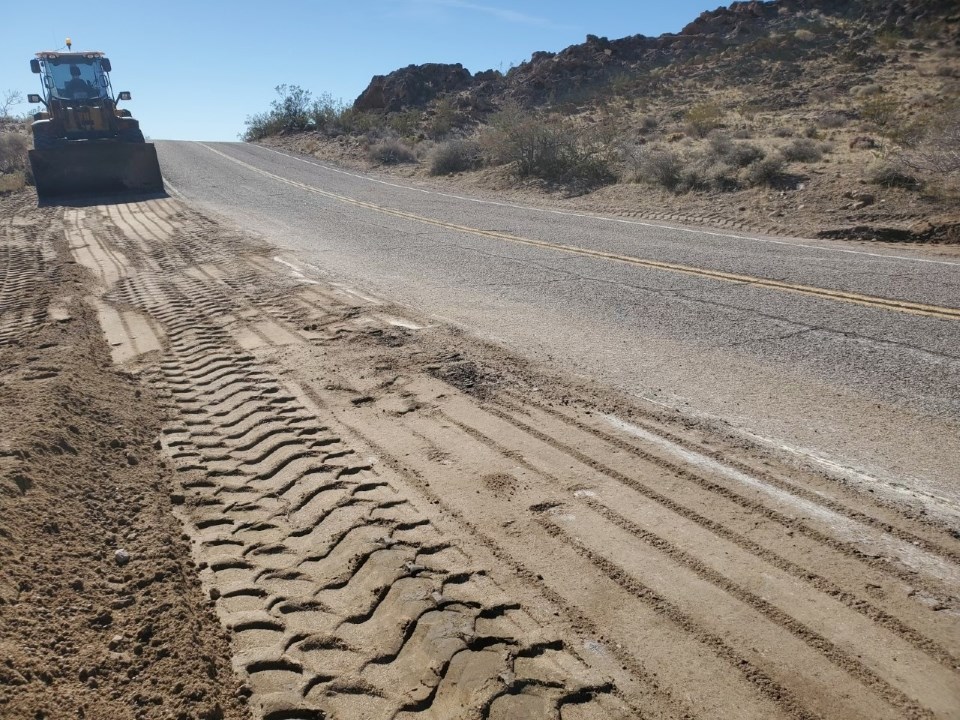 Left image
A road near Hole In the Wall Visitor Center
Credit: NPS/J. Petruncio
Right image
The same road after maintenance
Credit: NPS/J. Petruncio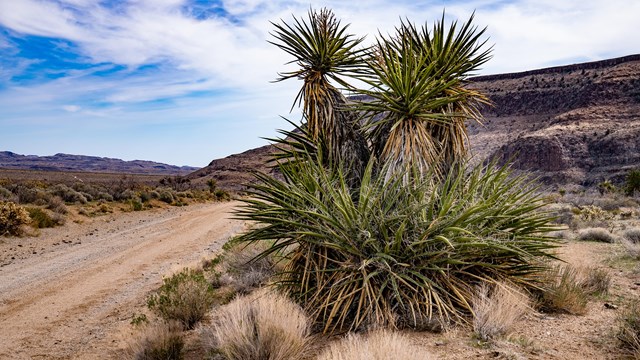 Desert Driving Safety
It's hot and sunny out there. Safe travel through rugged desert terrain requires more than a driver's skill.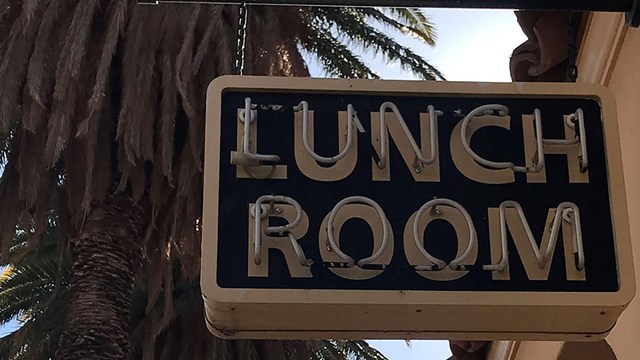 Food And Lodging Near The Preserve
Food and lodging near Mojave National Preserve
Last updated: May 30, 2023