For Kids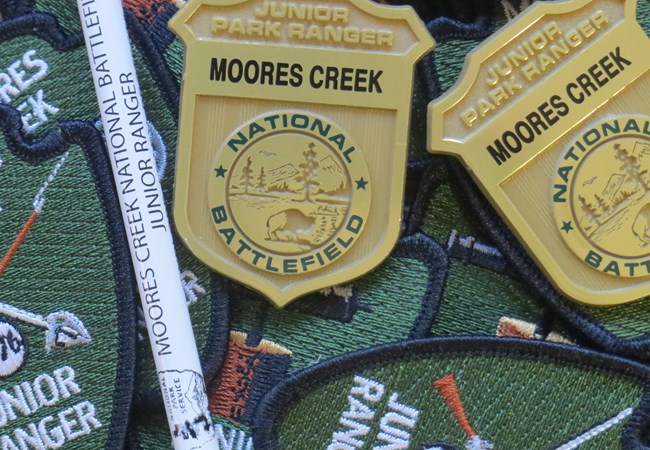 EXPLORE. LEARN. PROTECT. Be a Junior Ranger!
What is a Junior Ranger?
Are you interested in exploring? Do you like history or nature? Would you like to
learn more about the national parks that belong to you? Did you know you can
help protect these special places?
You could be our next Junior Ranger!
Junior Ranger Programs are designed to provide participants with the flexibility to
see and interact with the park at their own pace and within the limits of their
own time.
National Parks with Junior Ranger Programs:
Many National Parks offer visitors the opportunity to join the National Park Service
Family as Junior Rangers. Interested students complete a series of activities
during their park visit, share their answers with a park ranger, and receive an
official Moores Creek National Battlefield Junior Ranger badge and patch.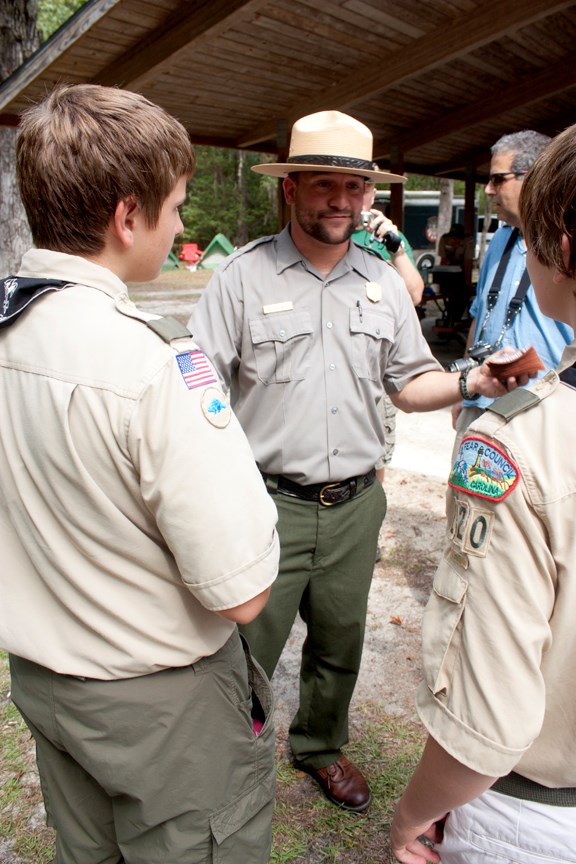 Scouts (BSA and GSA)
Moores Creek National Battlefield offers numerous opportunities for local Scouts to earn badges, camp out, and volunteer their time in a meaningful way. Historically, over 2,000 Boy and Girl Scouts visit the park each year, with that number growing each year. Scouts can camp in a large group setting in the park's Patriots Field, or in a small group setting at the park's new community campsite, Camp Caswell, which consists of 20 tent sites, 3 fire pits, and several grills and picnic tables. Bathrooms and running water are nearby.
The park offers numerous ways to volunteer and serve the park. Scouts can assist with any of the numerous Special Events that are held each year, including the park's Anniversary, which received nearly 7,000 visitors over the course of that weekend. Other opportunities can be found in clearing trails, splitting wood, or completing service projects such as building benches or painting benches.
When a Scout group serves at least five hours in a volunteer status in our park, they will qualify for the National Park Service Resource Stewardship Scout Ranger Patch. This is a National program. More details can be found at the following links:
Other patch opportunities exist in the park as well. Boy Scouts can complete the Moores Creek Hiking Trails Patch Program, and upon completion, they will be eligible to receive a Hiking Trails Patch, which can be obtained from a local Scout Shop. Girl Scouts can complete the Heroic Women's Patch Program, and upon completion, they will be eligible to receive a Heroic Women's Patch, which can be obtained by contact the NC Coastal Pines office. Lastly, Scouts can complete the park's Junior Ranger Program, and upon completion, they will be eligible to receive a Junior Ranger Patch and Badge, which can be obtained from the park's Visitor Center.
Last updated: March 19, 2017