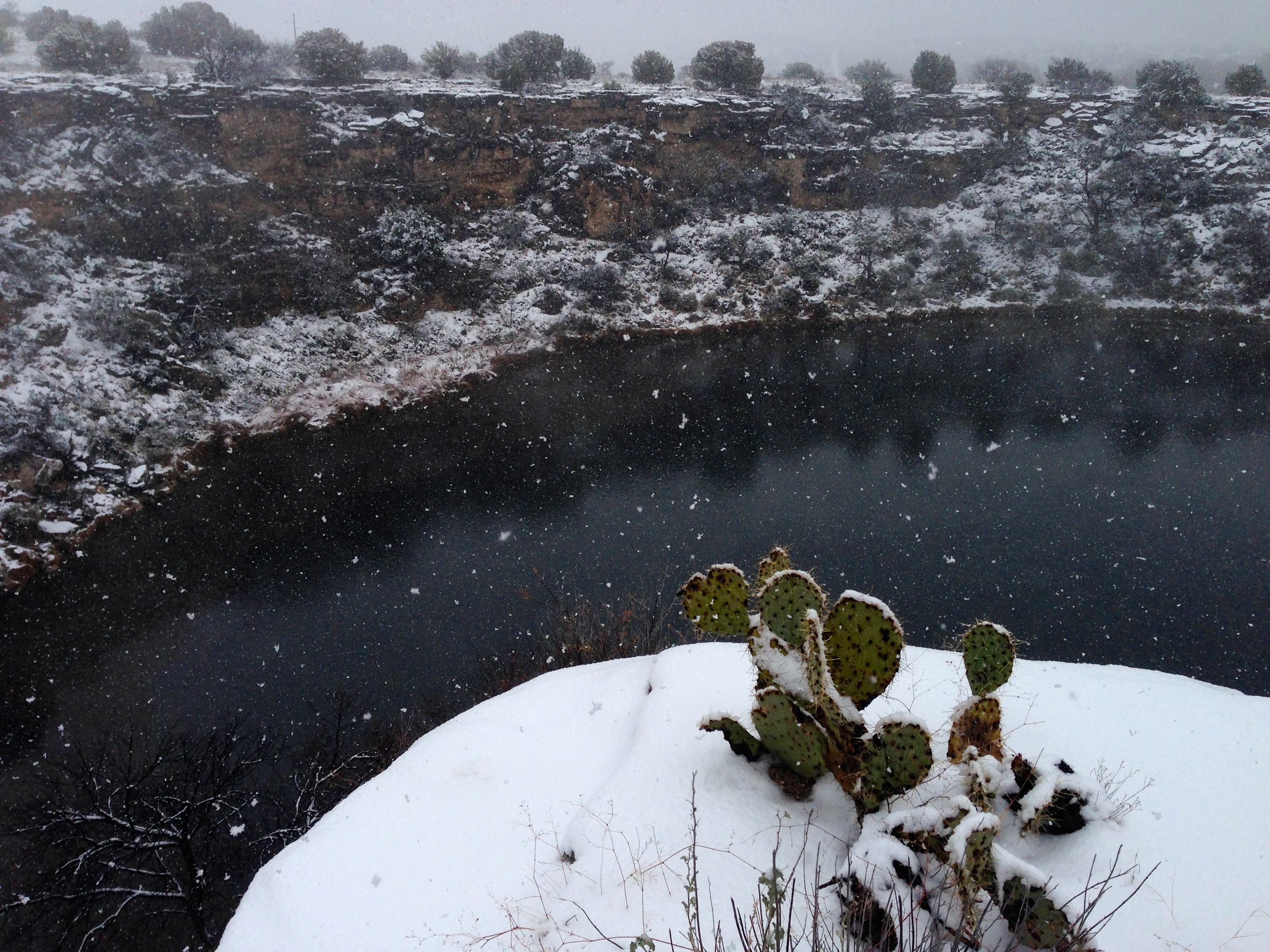 News Release Date:
December 28, 2016
Contact: Krystina Isaac, 928-567-3322 x 223
Verde Valley, AZ -- As the National Park Service embarks on its second century of service, Montezuma Castle and Tuzigoot National Monuments are celebrating the significant accomplishments of its centennial celebration and engagement with the
 Find Your Park
 /
Encuentra Tu Parque
 initiative.  
In 2016, Montezuma Castle and Tuzigoot National Monuments provided an array of interpretive offerings. Staff organized special events all year long, culminating in centennial festivities. In October we celebrated Theodore Roosevelt's birthday with Troop 1A from the Arizona Rough Riders Historical Society for the 5th consecutive year. In November we celebrated Native American Heritage Month with events every weekend at both Montezuma Castle and Tuzigoot. In March we participated in Arizona Archaeology Awareness and Heritage Month and offered several scholarly talks and tours led by park archeologists at Montezuma Castle, Montezuma Well, and Tuzigoot. In April we celebrated Parks Week and National Junior Ranger Day with an architectural historian specializing in Mission 66 architecture. In May we participated in the Centennial BioBlitz and recruited 48 volunteers to assist with finding invertebrates at Montezuma Well. Throughout the summer we held Native American flute concerts after hours. Other evening programs included star parties, night photography workshops, and guest lecturers. We collaborated with other NPS units in Arizona for several centennial events, including an expo in Flagstaff featuring all 22 National Park Units and many of our partners. This year, we started a new interpretive program for BARK Rangers. This program teaches pet owners how to be responsible in National Parks by teaching the rules of BARK.   Along with the 31 special events, staff also concentrated on strengthening their community outreach presence by participating in 18 community-wide events and supported the Every Kid in a Park initiative. The various community events allowed staff to offer the public opportunities to connect with the monuments' natural and cultural resources. Combined, Montezuma Castle and Tuzigoot issued over 1000 EKiP passes to fourth graders.  
The volunteer program at Montezuma Castle and Tuzigoot National Monuments saw an increase in individual volunteers and hours. We welcomed 27 new volunteers into our parks, including local residents and live-in volunteers nearly doubling our number of volunteer hours from 2015. The much needed increase in volunteers allowed us to have a successful spring break season in March and April. Our lines were dramatically shorter with volunteers checking passes and we more than tripled the number of Junior Rangers sworn in during those two months compared to last year. Our interpretive volunteer staff made informal contacts with over 120,000 visitors at all three of our units this year representing about 30% of our total visitation. This summer a volunteer developed an Archaeology Merit Badge camp for local Boy Scout troops and we are excited to continue this program in the future. Our volunteers were essential in providing special programs to the public such as star parties, cultural demonstrations and concerts after hours, as well as Junior Ranger activities.  
Fee dollars went towards several important projects this year. At Montezuma Well the Facility Management Division installed a solar powered entrance gate and continued repairs on the historic irrigation ditch. At Tuzigoot the group installed a drainage system to the Marsh Overlook trail and rehabilitated the restrooms.  
In 2016 Natural Resources staffed focused on projects that would increase visitor enjoyment. At Tavasci Marsh staff removed about 7 acres of Mexican fireweed (Kochia scoparia), adjacent to trails used by the public. Not only does this impact aesthetics and improve visitor satisfaction, but it also improves wildlife habitat. At Montezuma Well, we removed approximately 5 acres of various invasive species including Russian thistle (Salsola tragus) and Johnson grass (Sorghum halpense). We also planted around 200 native plants and several pounds of grass seed in the form of seed balls. This restoration area is adjacent to the pasture trail and highly visible to visitors. Many people assisted with these project including 4 biological science technicians, volunteers, Girl Scouts, and a YCC crew.  
Verde Valley National Monuments Programs Contributed to Overall Success of the NPS Centennial
Across the country, centennial programs resulted in a significant level of public interest and social media engagement with the National Park Service and National Park Foundation. The NPS, NPF, and partners across nationwide reached hundreds of millions of people with the centennial's Find Your Park message, and engaged the public in the NPS stewardship mission.
The Find Your Park campaign has resonated particularly well with younger audiences, which NPS and NPF targeted since they will be the next generation of national park visitors and stewards.  Millennials are increasingly familiar with the Find Your Park campaign, and NPS youth programs were a key component of NPS and NPF centennial engagement.
"I like to say the NPS is the only federal agency with a mandate to ensure the public has fun, and the centennial has been a lot of fun," said National Park Service Director Jonathan B. Jarvis. "But more importantly, it has inspired and engaged a new generation to take on the mantle of responsibility for the most important places and stories that define us as citizens of the United States of America."  
Looking Ahead: Find Your Park in 2017 and Preparing for a Second Century of Service
Planning is underway to build on the success of Find Your Park / Encuentra Tu Parque as the National Park Service, the National Park Foundation, and other partners will continue the campaign's momentum in 2017. The Find Your Park movement will continue to engage new audiences, especially around significant moments, including National Park Week in April and the NPS 101st birthday in August. Throughout the year, the NPS and its partners will invite the public to explore parks they haven't yet discovered, build personal connections to special places in their communities, and find ways to help ensure that future generations are able to fully experience their national parks and the NPS programs that steward America's treasures.  
More information about the success and long term legacy of the NPS Centennial is available online here:
 https://www.nps.gov/subjects/centennial/success.htm
.
www.nps.gov
Montezuma Castle is located at 2800 Montezuma Castle Rd, Camp Verde, AZ 86322. Montezuma Well is located at 5525 W Beaver Creek Rd., Rimrock, AZ 86335. Tuzigoot National Monument is located at 25 W Tuzigoot Rd., Clarkdale, AZ 86324.    For more information, please call 928-567-3322 x 0, or visit 
www.nps.gov/tuzi
 or
www.nps.gov/moca
.   Follow on Facebook, Instagram, and Twitter @TuzigootNPS and @MontezumaNPS.  
More than 20,000 National Park Service employees care for America's 413 national parks and work with communities across the nation to help preserve local history and create close-to-home recreational opportunities. Visit us at
 www.nps.gov
, on Facebook at
www.facebook.com/nationalparkservice
, Twitter  
www.twitter.com/natlparkservice
, and YouTube  
www.youtube.com/nationalparkservice
.