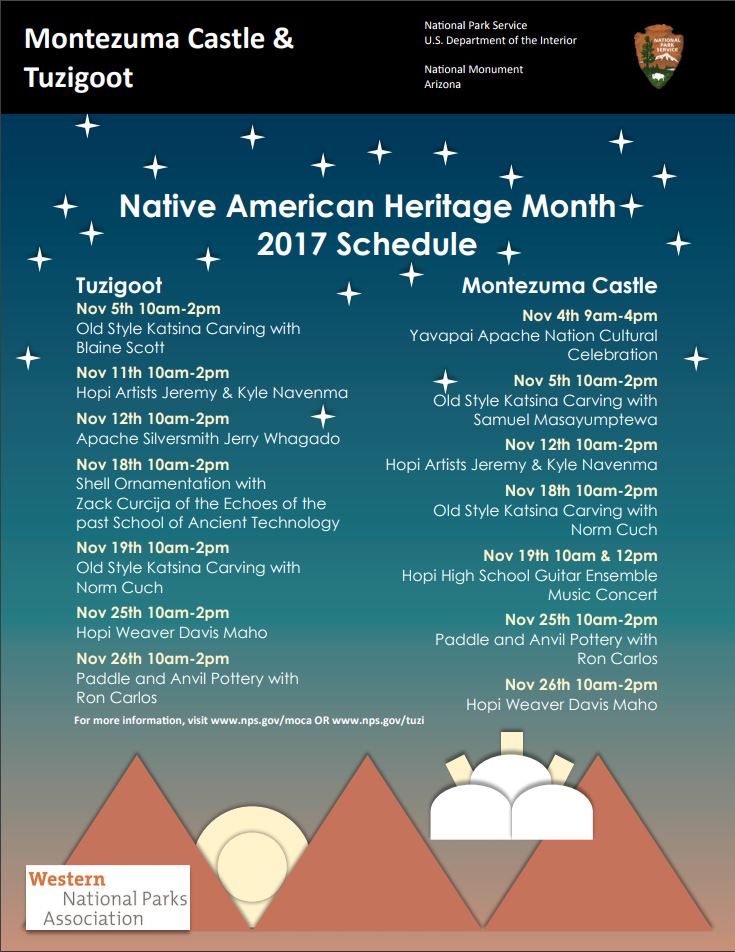 News Release Date:
October 26, 2017
Contact: Caleb Kesler, Chief Ranger, 928-567-5276 x 222
In honor of Native peoples' contributions to American culture, Montezuma Castle and Tuzigoot National Monuments will host special events each weekend in November to commemorate National Native American Heritage Month. Native Americans have added to every area of endeavor in American life. They built North America's earliest cities, domesticated its first crops, and developed its earliest great civilizations.
All events will take place from 10:00a.m. until 2:00 p.m. unless otherwise noted.
The National Park Service invites the public to participate in these events throughout November:
November 4-5

: Yavapai-Apache Nation Celebration. The event will be held at Montezuma Castle from 9:00 a.m. until 4:00 p.m. This celebration will feature many artists, singers, and dancers from the Yavapai-Apache Nation.  

On Sunday

, Samuel Masayumptewa will be at Montezuma Castle and Blaine Scott will be at Tuzigoot demonstrating katsina carving and talking about the Hopi culture. 
November 11-12

. Fee Free Weekend. Brothers Jeremy and Kyle Navenma will be demonstrating their artwork inspired by living on the Hopi Mesas at Tuzigoot 

on Saturday

 and Montezuma Castle 

on Sunday

. Jerry Whagado will be at Tuzigoot on Sunday demonstrating Apache silversmithing using Hopi symbolism.
November 18-19

. Hopi artist Norm Cuch will be demonstrating old-style katsina carving at Montezuma Castle 

on Saturday

 and Tuzigoot 

on Sunday

. Echoes from the Past School of Ancient Technology will continue their monthly demonstrations at Tuzigoot 

on Saturday

 with a focus on shell ornamentation. Hopi High School's classical guitar ensemble will perform at Montezuma Castle 

on Sunday

 at 

10:00am and 12:00pm

 
November 25-26

. Ron Carlos from Salt River Pima-Maricopa Indian Community will demonstrate the rare tradition of paddle and anvil pottery, knowledge carried since the time of the Sinagua and Hohokam, at Montezuma Castle 

on Saturday

 and at Tuzigoot 

on Sunday

. Hopi weaver Davis Maho will be at Tuzigoot 

on Saturday

 and Montezuma Castle 

on Sunday

 demonstrating traditional Hopi weaving styles.
These events are sponsored by Western National Parks Association, a nonprofit education partner of the National Park Service. Visitors' tax-free purchases in WNPA bookstores help WNPA provide direct support to 71 NPS units across the American West. More information can be found at www.wnpa.org.
Regular admission fees of $10 per adult apply, but there is no additional charge for the special programs. All Federal recreation passes are accepted, including the annual, access, senior and military pass; children age 15 and under are free. Montezuma Castle National Monument is located off I-17, exit 289 at 2800 Montezuma Castle Road, Camp Verde. Tuzigoot National Monument is located at 25 Tuzigoot Road, Clarkdale, AZ. 
For further information, call 928-567-3322, extension zero, visit www.nps.gov/moca, www.nps.gov/tuzi or follow us on Facebook, Instagram and Twitter @MontezumaNPS and @TuzigootNPS.