Volunteer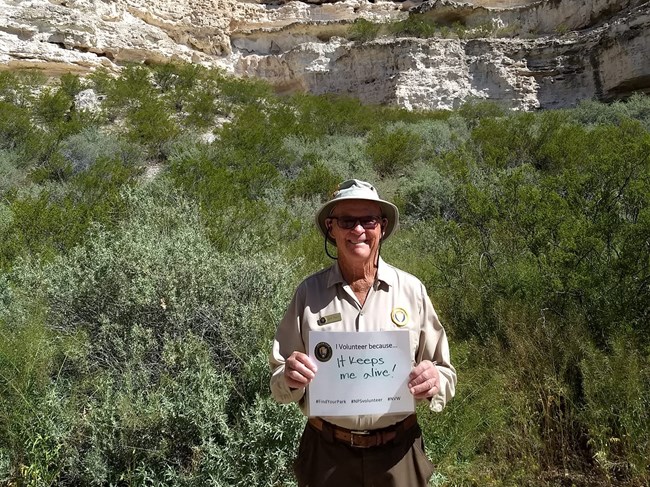 Come Join the Team!
There are many opportunities for volunteering - read below for our Volunteer-In-Parks program, or check out our brochure. You can also check out youth opportunities for local students!
Volunteer duties at Montezuma Castle, Montezuma Well, and/or Tuzigoot National Monuments include:
Assisting in the operation of visitor centers
Greeting visitors and answering questions
Assisting with Junior Ranger and BARK Ranger programs
Leading guided walks
Perfoming informal interpetation and demonstrations
Duties vary according to the skills and interests of the volunteers: check out the Volunteer Opportunities below for current positions! Applications are accepted and positions are available year-round. Interpretive training provided. Volunteers work 4-8 hours/day. Please indicate which park(s) you would be interested in.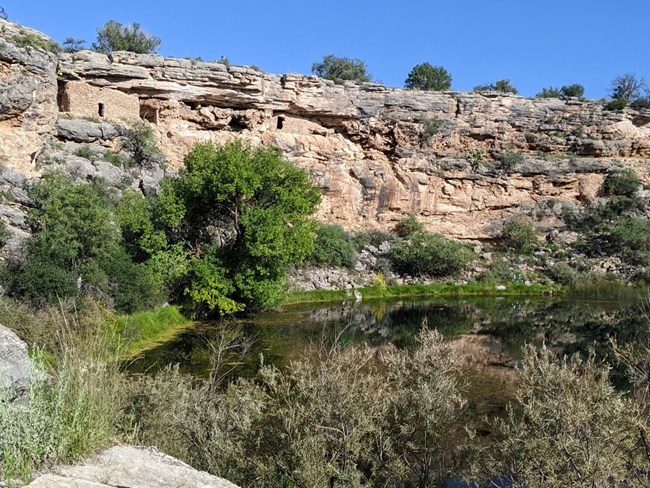 Montezuma Well
Volunteers at
Montezuma Well
would have
housing
and trailer/RV pads if available. While limited, staying at housing and use of pads would be available for up to 6 months. Water, electricity, and propane are provided for free with the requirement of volunteering 3-4 days a week.
Volunteers can expect to spend most of their time at Montezuma Well, performing opening and closing procedures at the site. This can be things such as raising the flag, getting the contact station ready for the day, checking brochure/Junior Ranger stock, and clearing the site of visitors at closing time. Some of the main daily duties involved include roving trails to talk with visitors, keeping an eye on the parks resources, assisting visitors with completing the Junior Ranger program, cleaning up litter on trails, and communicating with the volunteer coordinator on important matters.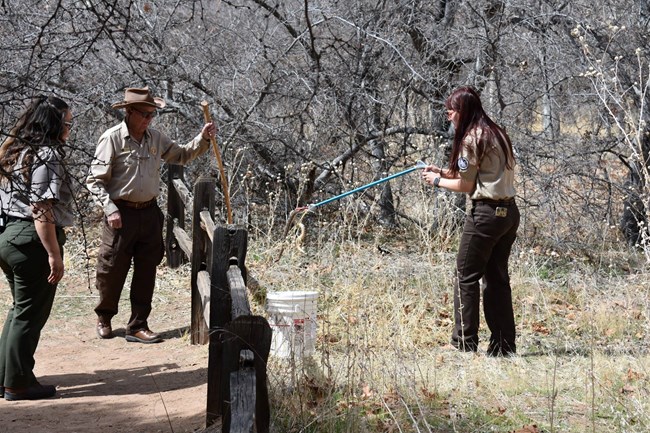 From Volunteer to Career!
For those looking to start their career in the National Park Service (NPS), volunteering is a great way to get started. Many of our current and former employees started their succesful NPS careers by volunteering at our sites! When volunteering you will get hands on experience working closely with NPS staff. It is a great oppurtunity to build connections, refferences, and resumes.
Volunteers assist rangers with important and useful activites that will look great on a resume. This can include things such as interpeting our resources to visitors, leading guided walks, creating and presenting demonstrations, assiting visitors with Junior Ranger programs, providing information on the NPS fee system, and assisting NPS staff with opening/closing procedures. There are also oppurtunities to assist with ongoing research programs, such as our rattlenake research partnership with Northern Arizona University!
We invest into our volunteers by helping develop and nuture their skills where we can. People from all types of backgrounds, career interests, and skill levels are welcome!
Current Volunteer Opportunities
We currently have Volunteer Opportunities for our sub-unit site Montezuma Well!
To apply visit
here
Plus if you put in 250 hours, you get an annual
VIP pass
to all of your national parks!
Trailer home and RV lots with hookups are available but limited, please inquire about availability when applying if interested.
We look forward to working with you!


Last updated: June 29, 2023