Be A Junior Ranger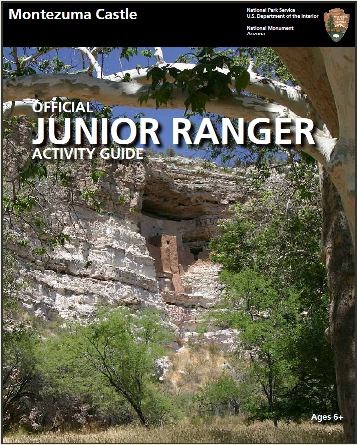 The Junior Ranger program at Montezuma Castle National Monument is full of fun activites which help you be more aware of their surroundings and the relationship of the environment to the prehistoric people who lived here over 800 years ago! Pick one up at either Montezuma Castle or Montezuma Well.

Download the Junior Ranger Book before you arrive.
Completing the activity takes some time but the rewards are tremendous. Junior Rangers earn a shiny badge and certificate!
Special Note: There is no age limit to become a Junior Ranger. That means everyone is eligible to become an official Junior Ranger as long as they do the work and earn it!
The Arizona Explorer Junior Ranger book was introduced in 2018. This book allows junior rangers the opportunity to explore all 22 parks and monuments in our state. Discover what links each park together and what makes them all unique. Ask about this program in our visitor center.
Arizona Junior Ranger Archeology Activity Book
This program is retired and will no longer be offered. However, if you still have the book and are looking to recieve a badge for your hard work just
mail us
a copy of the completed book and we will mail you a badge back!
If you are interested in still working on a Junior Ranger Archeology book for the National Park Service
click here
.


Last updated: October 16, 2021