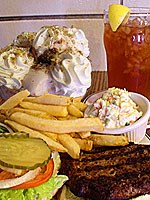 Dining in and around the park offers many options, or you can opt to eat surrounded by nature at the park's picnic areas.

Outside the park, many restaurants cater to a range of tastes. National Park Service employees are prohibited from providing recommendations regarding eating establishments. For information about places to eat, please contact the:
Inside the Park/Partner Sites: Picnic sites are available on park property at Mulberry Bend Overlook. Picnic tables are also available at all of our partner facilities such as Ponca State Park, Lewis and Clark Visitor Center, Lewis and Clark State Recreation Area and at several spots around Fort Randall.