Pool Toys are not Watercraft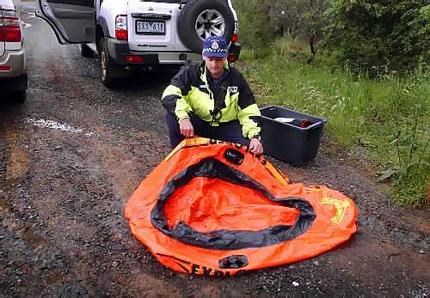 Floating down a river on a hot afternoon can be great fun and relaxation, but there are dangers involved.Proper equipment is necessary to reduce the chance of accidents. Pool toys are just that – toys intended for swimming pools or designated swimming areas – they are not designed to be used on open lakes or rivers. These toys are sometimes made to resemble canoes or whitewater rafts, but they are not. Other toys are made to look like tires, cartoon characters, or lounge chairs. They are still just toys, as are air mattresses or rafts.
No matter what they look like, these toys all have several things in common: they are inexpensive, they are made of thin plastic, they are easily punctured and usually have only one air inlet.
A big, free-flowing river like the Missouri is no place for toys. There are many obstructions just under the surface that can rip and instantly deflate a pool toy, suddenly leaving the rider in the water far from shore. The swirling currents and submerged debris of the Missouri make swimming difficult and dangerous. Pool toys are not made for navigation and are difficult to maneuver and steer. People trying to cross the river to their takeout point have ended up far downstream facing a long, difficult walk back.
Real inflatable boats cost hundreds of dollars, are made of tough, coated fabric, and have multiple air chambers. If you must tube, use a new truck inner tube and wear a life jacket as all boaters should. Better still, canoes and kayaks can be rented from local outfitters at reasonable rates, and shuttle service can be arranged. If you don't know the six basic paddle strokes, consider one of our free canoe clinics.
Last updated: April 10, 2015