Operating Hours & Seasons

Missouri National Recreational River is open every day of the year. Winter weather however, tends to dictate when our partners visitor facilities open and close. From May to late September, facilities are open to welcome summer visitors. Many people enjoy the "off-seasons" as a time when the National Recreational River corridor is a bit quieter.
Late September and October can be spectacular with fall foliage ablaze in magnificent colors.
Winter provides a carpet of snow that makes for amazing photographic opportunities.
Spring tends to arrive in April and by mid-May flowers and plants are in full bloom.

Whatever time of year you visit, the Missouri National Recreational River is ready and waiting.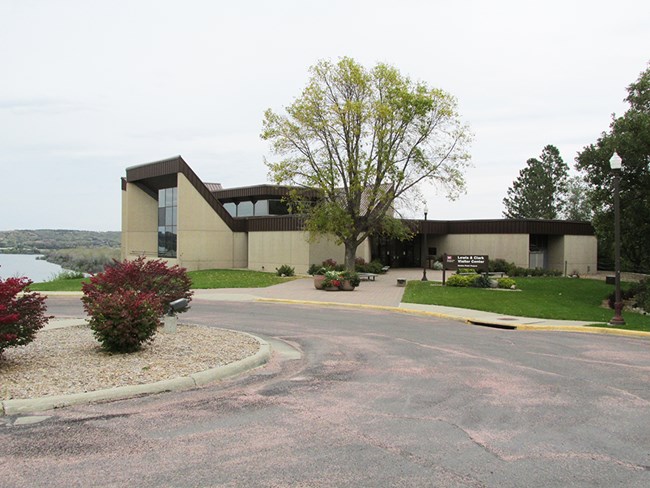 Lewis & Clark Visitor Center
Operated by the Army Corps of Engineers, this visitor center includes exhibits and includes exhibits and information on the Missouri River basin. It is located on Calumet Bluff just downstream from the Gavins Point Dam in Nebraska. To get there take Nebraska Highway 121, about 4 miles west of Yankton, South Dakota. Hours of Operation: Open 7 days a week: 9:00 a.m. to 5:00 p.m. during the warm season; Monday through Friday from 8:00 a.m. to 4:00 p.m. October through February. Closed on Federal holidays. Call 402-667-2546 for information.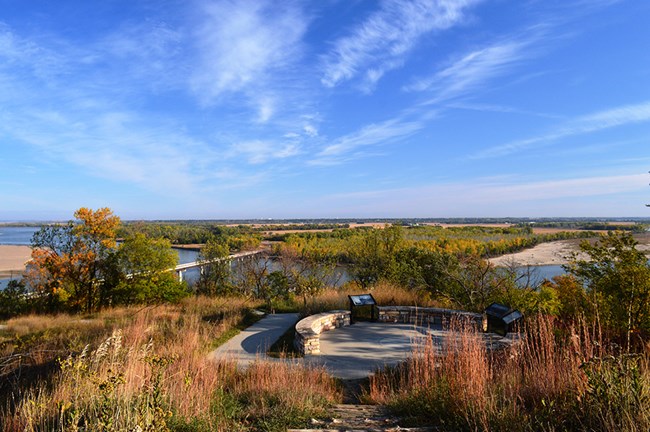 Mulberry Bend Overlook
With a great view of the 59-mile reach of the river, this overlook is on the Nebraska side by the Newcastle-Vermillion (Missouri River) Bridge connecting Vermillion, South Dakota, and Newcastle, Nebraska (SD 19 and Nebraska 15). It is open year-round and may be closed in winter when conditions warrant. Wayside exhibits at the parking area tell the story of the Lewis and Clark Expedition and the historic river. A short hike to the top affords a panoramic vista of the wild and scenic Missouri.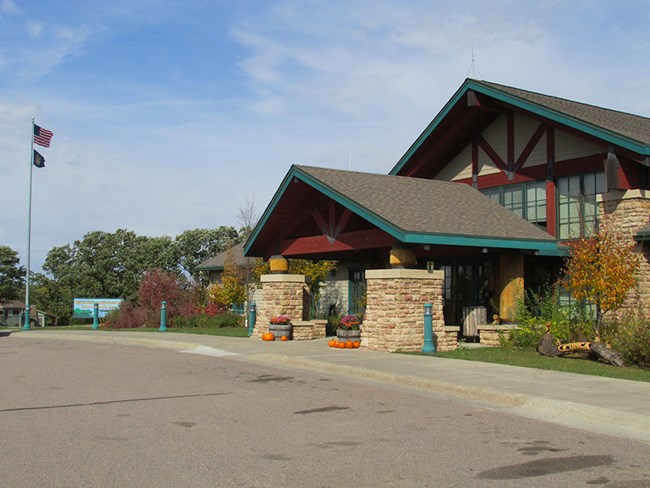 Missouri National Recreational River Resource & Education Center
The building is located in Nebraska's Ponca State Park and houses a large exhibit wing featuring the wild and scenic Missouri River and the Missouri National Recreational River. It is open Monday through Saturday from 8:00 a.m. to 5:00 p.m. and on Sunday from 1:00 p.m. to 5:00 p.m. Hours are extended during the summer. The state park is at the end of Highway Spur 26 E about three miles north of Ponca. A valid daily or annual entry permit is required. To learn more call: 402-755-2284.


Last updated: June 12, 2017