Paddling the Lewis and Clark Lake Delta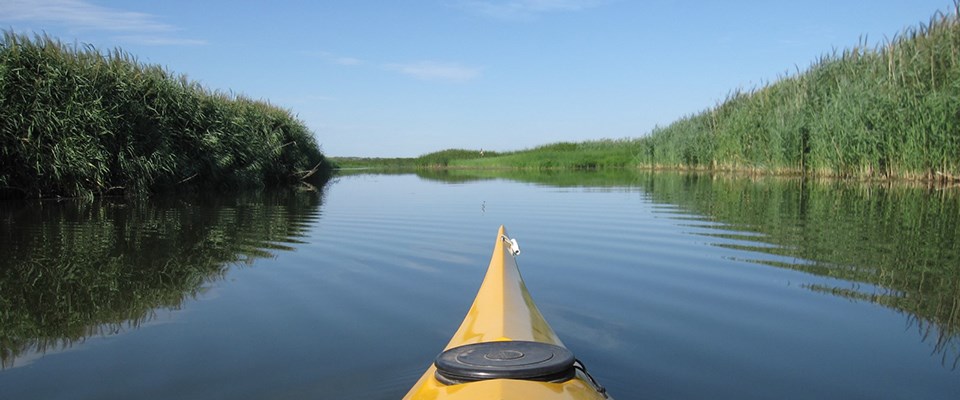 The Lewis & Clark Lake delta begins near the Missouri-Niobrara River confluence (near the Running Water Access) and extends 16 miles downstream into Lewis & Clark Lake (near the Sand Creek Access). This portion of the MNRR Water Trail is characterized by numerous braided channels separated by densely vegetated sandbars. The delta is the result of a significant amount of sediment from the Missouri River, Niobrara River and other tributaries entering the slower moving waters of Lewis & Clark Lake.
The delta is set in a unique landscape and offers a paddling experience that is different from that of the Missouri River main channel. The current here is slower than that of the river, allowing paddlers to travel upstream with relative ease and therefore the option to begin and end at the same location. Both the delta and Lewis & Clark Lake offer several access points, most of which feature water trail signage. Much of the delta is bordered by steep bluffs of the chalky Niobrara Formation. The delta's many channels are separated by numerous sandbars that are mostly vegetated with common reed grass and cattails.
More about its history (YouTube video link)

While the delta is a great paddling experience, it also requires some preparation in terms of navigation. All who plan to paddle the delta should bring a GPS to aid navigation through the many channels this area has to offer.

South Dakota law requires that non-motorized boats over 12 feet long, including canoes and kayaks, be licensed in South Dakota or another state. Every person in the watercraft must have a U.S. Coast Guard approved personal flotation device that fits properly, is readily available and in good and serviceable condition.

Last updated: February 27, 2020