Wildflowers
What's Blooming April through September
In relative order of appearance from April into fall.
Pasque Flowers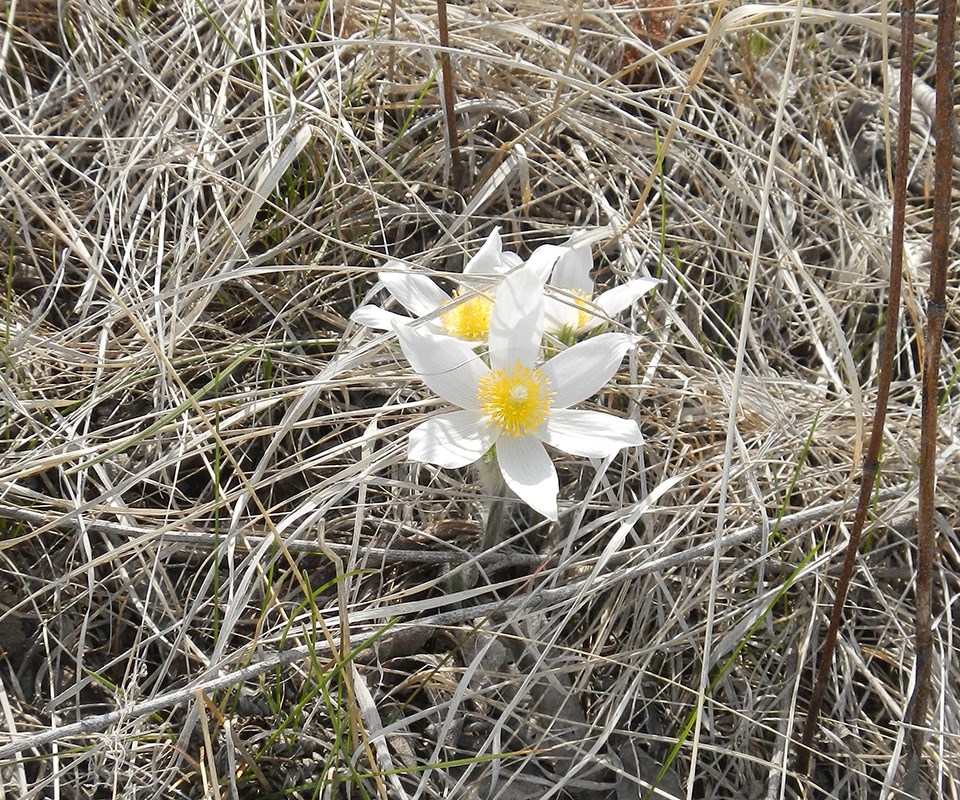 Left image
Pasque Flower cluster not in bloom.
Credit: NPS photo
Right image
Pasque Flowers in full bloom.
Credit: NPS photo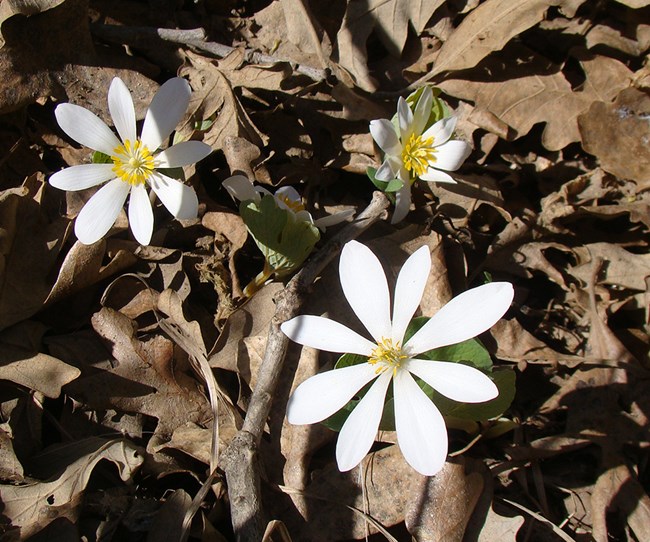 Bloodroot
Sanguinaria canadensis
This native wildflower blooms in early spring (April-May) in the deep woods of Mulberry Bend Overlook. Each delicate flower stalk emerges in spring wrapped by one palmate, grayish-green leaf. The plant produces one white flower with numerous yellow stamens at the center. Flowers are short lived (1-2 days) and open during daylight and close at night. Bloodroot gets its name from the bright reddish-orange sap when cut. The American Indian used this plant for dyes.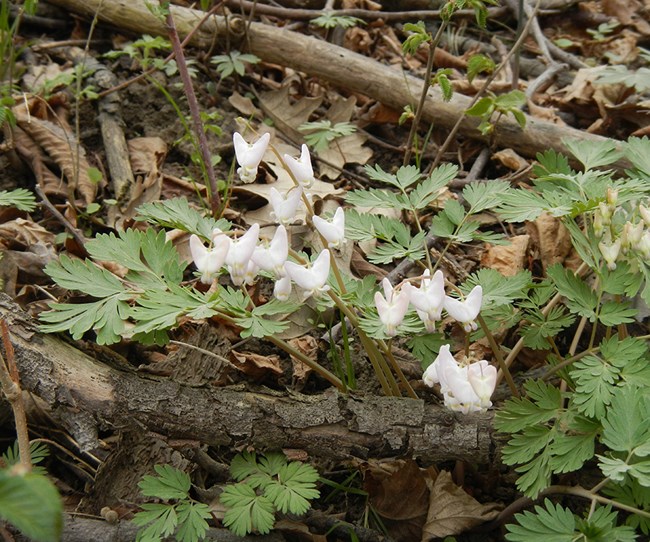 Dutchman's Breeches
Dicentra cucullaria
Dutchman's breeches are the first wildflowers to bloom by mid to late April in the forests at Mulberry Bend Overlook. The flowers look like a pair of white breeches hanging upside down or shaped like spaceships.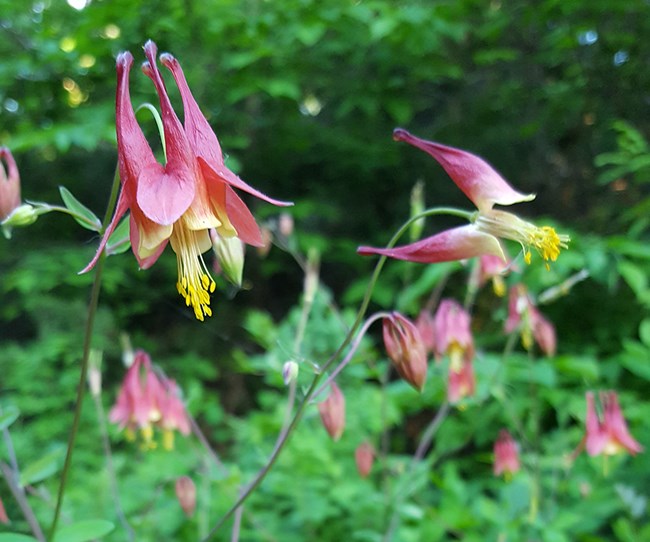 Red Columbine
Aquilegia canadensis
In May, look for the red cluster of hanging bell-shaped flowers along the wooded trails at Mulberry Bend Overlook. Also known as Wild Columbine, it grows in well-drained soils and prefer shady areas.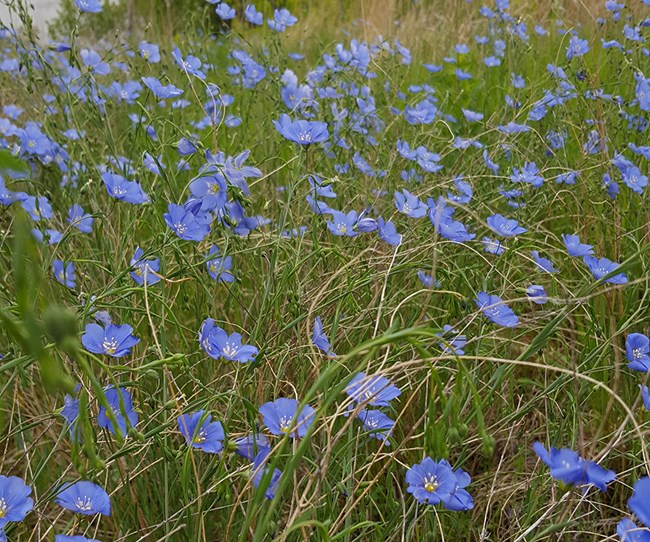 Prairie Flax
Linum lewisii
Also known as Lewis's flax or Wild Blue Flax, this species is one of over 220 varieties worldwide--Linum usitatissimum is commercially grown for human consumption. This perennial wildflower or forb can be found on the well-drained dry soils at Mulberry Bend Overlook and is food for deer, birds, and other wildlife. It flowers throughout the warm seasons from May through August.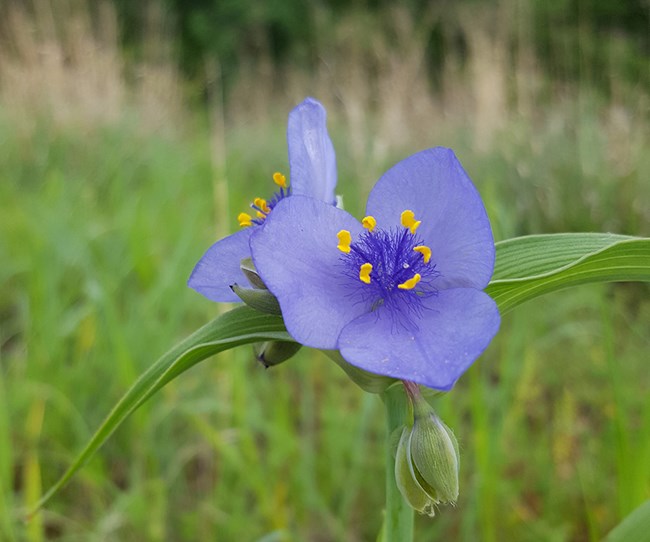 Bracted Spiderwort
Tradescantia bracteata
Blooming in June at Mulberry Bend Overlook, the flowers cluster at the top of the stem above the leaves. Flowers, lasting only one day, consist of three blue-violet petals and up to six stamens with yellow anthers.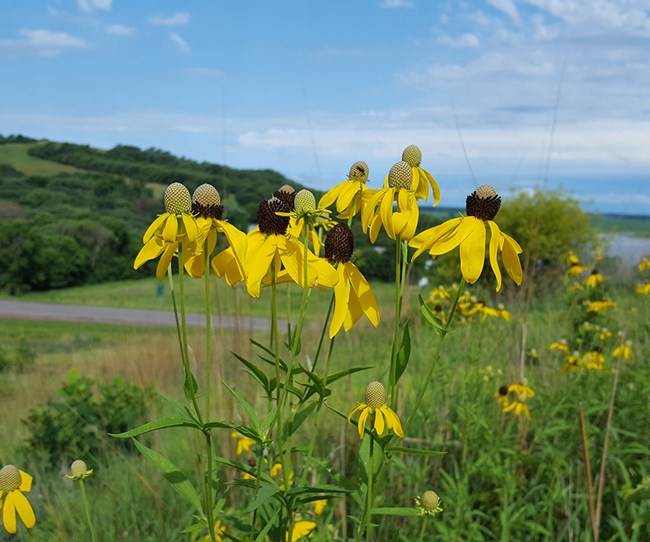 Gray-headed Coneflower
Ratibida pinnata
Gray-headed coneflowers start showing off their yellow flower heads at Bow Creek Recreation Area and Mulberry Bend Overlook by late June. The cone is gray-brown or greenish in color. Gray-headed coneflowers are much taller than prairie coneflowers. Watch for bees and butterflies making pit stops to these native pollinator plants.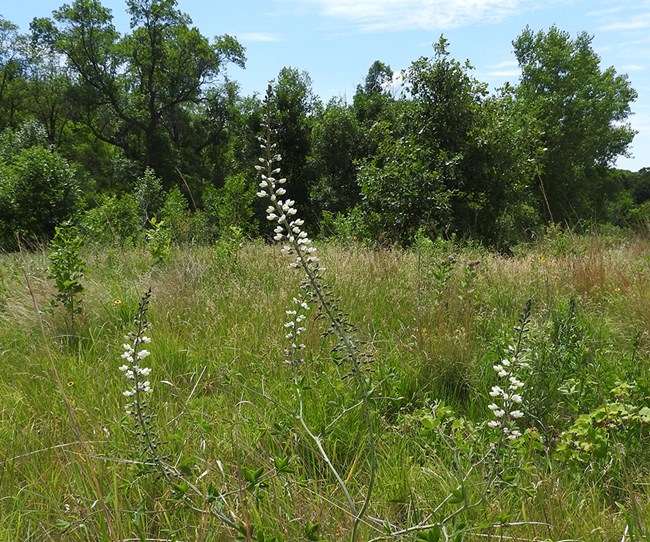 White Wild Indigo
Baptisia alba
This showy legume stands out from all other prairie plants with its 2- to 4-foot stems of white flowers. Look for them in the parking lot island at Mulberry Bend Overlook in June through July. By autumn, look for its black seed pods attached to the stems.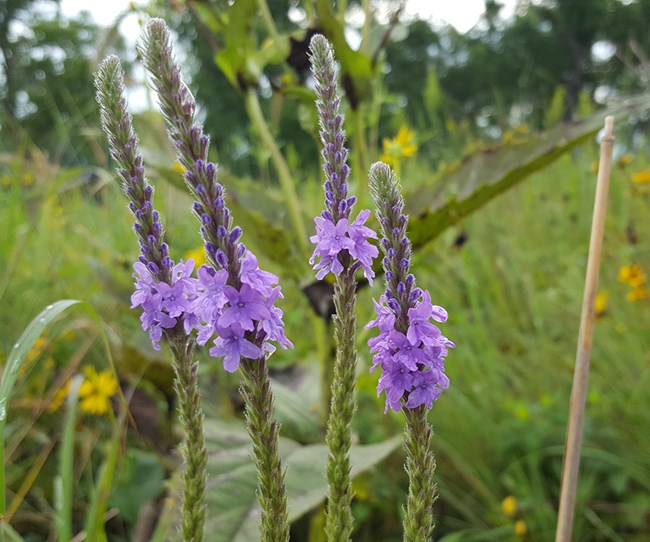 Hoary Vervain
Verbena stricta
Look for the purple flowers of this native pollinator species growing along the concrete pathway at Mulberry Bend Overlook during the months of June through August. It's a favorite for pollinators including moths and butterflies.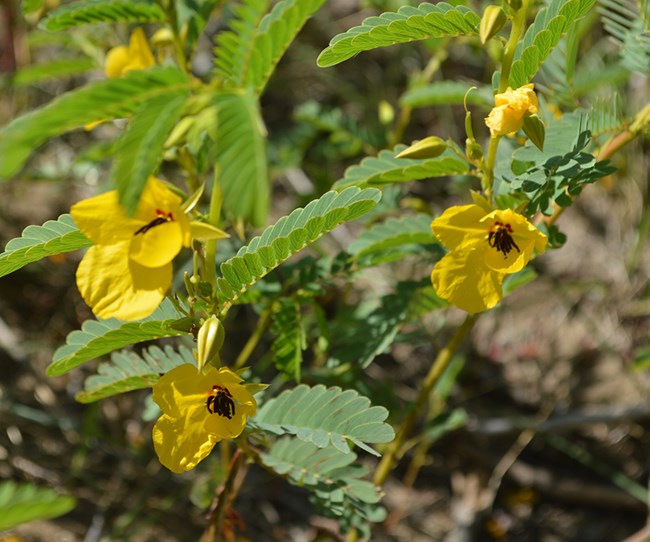 Partridge Pea
Chamaecrista fasciculata
Growing in the island circle of the Mulberry Bend Overlook parking lot is a fun plant to observe as its pinnately-compound leaves that bear many small, green leaflets fold together when touched. Also known as the Sleepingplant or Sensative-plant, they have large showy flowers that bloom by July. After they flower a narrow seed pod is produced. The flowers attract a number of pollinators including hummingbirds and hawk moths. Seed pods are eaten by birds and deer.
Additional Resources

Wildflower Prayers Series - 80 different species of wildflowers and shrubs of the Missouri National Recreational River by photographer Pat James.
Last updated: September 10, 2021