Natural Features & Ecosystems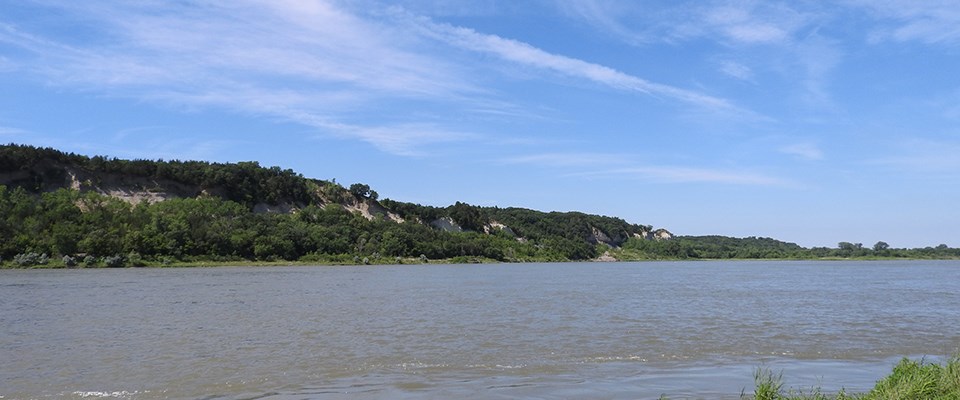 The Missouri River drains one-sixth of the United States and encompasses 529,350 square miles. It flows nearly 2,341 miles from its headwaters at the confluence of the Gallatin, Madison, and Jefferson Rivers in the Rocky Mountains at Three Forks, Montana, to its confluence with the Mississippi River near St. Louis, Missouri.
Regional Differences
The basin's northern landscapes include level to gently rolling plains and hills composed largely of glacial till.

The region between the Missouri River (on the north) and the South Dakota-Nebraska border (on the south) is arid and has eroded to form deep valleys. From there to the basin's southern boundary lie the Great Plains, with their characteristic widely-spaced streams and broad, flat valleys.

In the basin's eastern third, the plains give way to upland plateaus and gently rolling till plains.
The northern high plains region is based on layered rock of mostly marine origin. Surface rocks are either of this type or were alternately deposited and eroded by streams, wind, and glaciers. The oldest rocks of the area are the buff forming, chalky limestone of the Niobrara Formation and the shales of the Pierre Formation. These accumulated in shallow seas that occupied the western interior of North America between 85 and 65 million years ago as the Mesozoic Era drew to a close.
Geology Of The Missouri National Recreational River
The park is situated between the glaciated and unglaciated portions of the Missouri Plateau in the Great Plains Province of the Interior Plains. The river's course marks the terminus of the southern advance of the Mankato substage of the Wisconsin glaciation period in the region.

The adjacent areas along the 39-mile reach are characterized by gently sloping bluffs to the north and steep dissected bluffs rising sharply from the floodplain on the south. The wide floodplain of the 59-mile reach consists of sandy soil deposited by the river since the Pleistocene.
More Information
Last updated: September 24, 2020